MID CENTURY MODERN BOUCLÉ IS THE FABRIC DU JOUR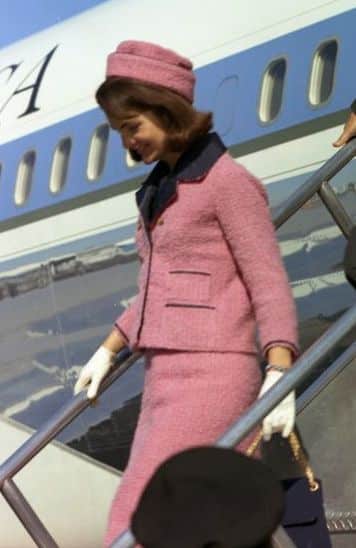 What's the first thing that springs to mind when you think of bouclé? That's right, it's Jackie Kennedy in a pink Chanel suit. Classic.
It's use in furniture came earlier and has an equally impressive history. Florence Knoll asked Eero Saarinen to design a chair that she could "really curl up in,". He took that request literally and decided to use the "curled" fabric (the direct translation of bouclé in it's original French) to create the Womb chair in 1948. Bouclé can refer to a looped yarn or the resulting fabric woven from this yarn and it has a knobbly texture. Wool is the most common fiber used in it's creation, but cotton, linen, and silk have also been used for achieving the fabric's uniquely textured weave.
The Womb chair was a huge hit and in the years following the release of the chair, bouclé became a staple in both mid century fashion and upholstery.
Fast forward to 2021 and Bouclé is making a comeback. According to Alice Newbold in Vogue magazine, Chanel are turning the classic on it's head, "the elegant bouclé button-ups frame rock 'n' roll tees, bandeaus and strings of pearl necklaces worn over bare skin."
Meanwhile in the world of home furnishings bouclé is also rocking the boat.
According to Architectural Digest, "As demand shifts toward fabric, which is abundant in texture yet breathable in weight, textile houses are rounding out their bouclé offerings." Take a look at these curvy designs that suit the fabric so well. There is something cloud like about the white fabric in a rounded and often squishy form that is so perfect for the escapism we crave during these crazy times. And of course they are the perfect fabric for winter. Cosy yet reminiscent of a snowdrift you can fall into. Just think how well they will go with the tree. 🎄
And while I do love the curves it does also look fantastic in a buttoned mid century classic design such as the Rosslyn which is a great buy at only £529.00.
I think the white bouclé has an undeniably feminine aura. And in powder pink it is as girly as a sofa can be. Personally I love it! But not sure what Walter will make of it…
If you need to appease those pesky men in your life, not to worry. It is possible to buy bouclé furniture in more masculine shades.
And if you just want a hint of the latest fashion why not add a lovely rocking chair or even just freshen your look with a few cushions?
This Christmas, take a leaf out of Florence Knoll's book and curl up on your bouclé and read a nice book. Dreamy! Knowing all the while you are as fashionable as Jackie O in her heyday.
Shop the full bouclé range here.