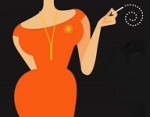 THE BEST OF EBAY
Well, I think I've found some corkers this month. The problem is, I want to buy them all myself and then there wouldn't be anything left for you, would there? Oh well, I can't really squeeze any more sofas in to my house anyway – unless I'm going to start a showroom. But I can always make room for a couple of vases, so you'd better be quick…
Do you think they acquired this when Sterling Cooper & Partners were absorbed by the evil McCann Eriksson? That would explain the bargain price, wouldn't it? Either way, it will certainly pack a punch in the living room. And its always nice to have thoughts of Don Draper while reclining on the sofa.
These are the finishing touch we've all been waiting for, aren't they? The shape, the copper and the teak handles are spot on. I love symmetry in a room and here you have it. One on either side of the fireplace or in two corners of the room. All you need now is someone to buy you flowers every week. Or go for some tall branches that will last forever.
These are the new must-have chair. Minimal but with a rustic warmth. The original design was based on a British Army Campaign chair from the 19th century; when they were busy colonising the world. In 1933 Kare Kline, a Danish designer, decided to re-invent it as a chair for the home.
KAJ FRANCK FINISH FRUIT SPOONS, £40
Kaj Franck was a much-loved leader in Finnish design from the 40s to the 80s; Finland's mint even released a commemorative coin in his name in 2011. These would make the perfect wedding present for a fan of mid century modern Scandi design. No one needs another toaster, do they?
DANISH TEAK WRITING DESK, £590
I feel as though I would get a lot more done at a desk like this. Lovely lines, don't you think?
DANISH MID CENTURY LEATHER SOFA, £695
This seems like a very good buy to me. Its rare to find a vintage leather sofa as stylish as this and still have change from a grand!