This brand new beautiful one bed flat in Brighton has been fully furnished for just over £2k! Here's how you can recreate this exactly…
THE LIVING ROOM
The dark grey walls provide the perfect backdrop for the statement neon sign that immediately grabs your attention when you walk in. The blue velvet sofa bed is a mid century modern classic with a visible wooden frame that sets it apart. The gold accents in the coffee table, breakfast bar, stools, lamp and mirror add a touch of opulence to the space. I could imagine drinking a little martini in here before heading out on the town in lively Brighton!
Here are all the products with links so you can recreate this look for just over £2000. Not bad, eh?!
We asked the owner, Kate Austin, how she managed it!
The trick is to splash out on some thing like the neon sign that gives it the wow factor! But shop around for the rest. The stools from ALDI of all places were such a bargain!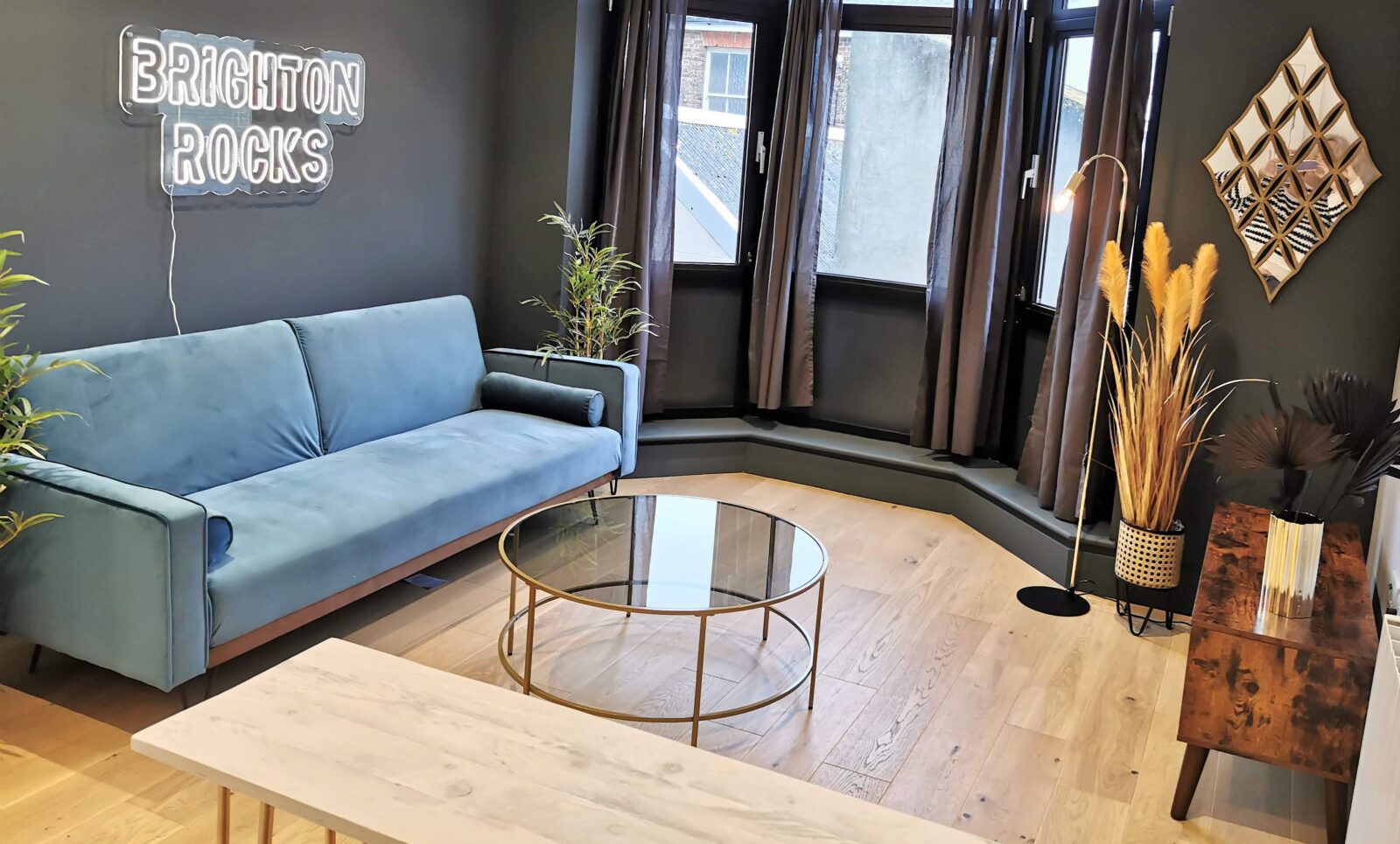 Neonpop LED Sign
THE BEDROOM
The bedroom brings glamour with the navy, mid century upholstered bed and the black marble effect side tables with black and brass bedside lamps. This is combined with a relaxed colonial vibe with the rattan sunburst mirror, the pampas grasses and the bamboo storage unit. Which is ideal for a holiday flat. No need for big heavy wardrobes and drawers when we only need somewhere to hang a few items out of a suitcase! The colour scheme is radiant with its pink and gold tones; perfect for summer but also adding warmth in winter.
We love the mid century duvet set with its sunburst design but it the room also suits the crisp plain white bedding dressed with a plush gold throw to match the curtains.
Do you want to stay in this stylish one bed in central Brighton? You can book Brighton Rocks on Airbnb here.
Oh, and it has free secure parking included which is as rare as hen's teeth in this location.
Better move fast as it had 7 bookings on its first day on the listings site!