THE BEST RETO VINYL STORAGE SOLUTIONS ON THE MARKET
Redpop Walnut and Cane Vinyl Cabinet
Having bottomed out in the early nineties, vinyl long playing records are now widely reported as outselling their digital successor, the compact disc. Music fans are increasingly favouring a dual pronged listening approach in the modern era – streaming music for casual everyday listening while also purchasing a vinyl copy of their most treasured recordings to keep as a physical artifact. It seems the urge to own something physical and attractive just won't die.
While a certain Swedish furnishing giant can offer multiple options for your burgeoning vinyl LP collection of Iranian Ska and Ambient Polka, you will be pleased to learn that there are record storage solutions you may end up treasuring as much as the contents therein. Is it entirely appropriate that vinyl records, developed in the mid century modern era should find themselves housed in a cupboard inspired by the style of that same era? Yes. Of course it is.
Apart from the more traditional cupboard-with-doors approach there are also manufacturers combining vinyl storage furniture with additional shelving to house the all important reproduction equipment. Eh? Shelves for your amp and turntable. Oh!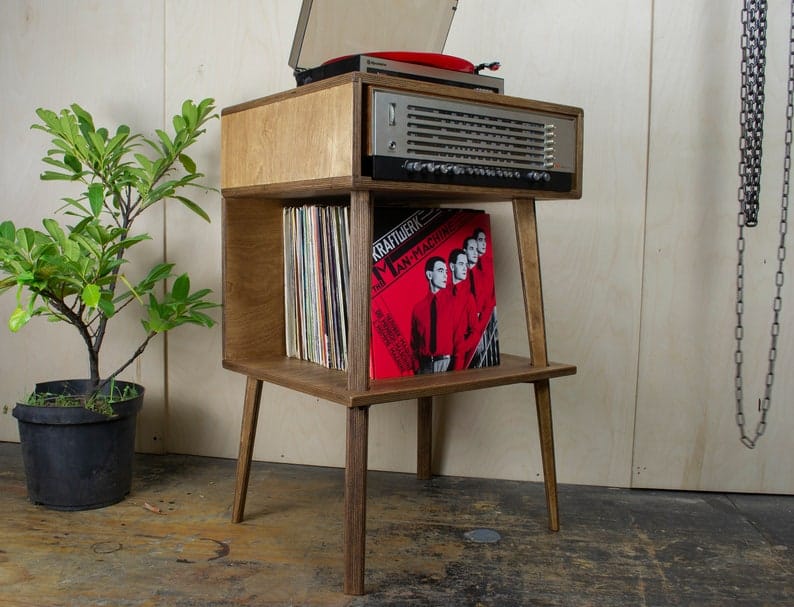 If you prefer to keep that vinyl hidden away, there are some lovely mid century sideboards and shelving units that make sure it's out of sight but still easily accessible.
The retro vinyl storage furniture displayed here is just a glimpse of what these dedicated craftsmen can provide. Follow the links to find custom installations alongside off the shelf creations. As a recently cured devotee of the LP record myself – no, you didn't just see me inhaling the inside of a record sleeve – I can testify that having attractive furnishings to house your records means your partner will allow you to play with them more often. And besides, doesn't your original gatefold copy of Aladdin Sane deserve it? Again, yes.