There are some beautiful mid century modern style beds to choose from right now. Whether you're looking for classic mid century modern or a 1970s rattan vibe or maybe just a muted hint of mid century styling, we have the best choices for you.
10. Penn King Size Metal Bed
If budget is your primary concern this one is hard to beat. Just £249 for a King Size! I love it in the peacock green. The design details are very good with the tapering legs and I love the shadows it creates on the wall behind it too. You'll need a lot of cushions if you're planning on reading in bed but that's another chance to go shopping!
Penn King Size Metal Bed
9. Eulia King Size Bed
A classic mid century modern bed that's great value for just £399. Plush velvet upholstery cover the curved headboard, and the tapered and angled brass legs scream mid century design. Fitted with sprung slats, so you know you're getting premium comfort with all that style. It comes in a lovely range of colours but I feel this sycamore green captures the classic mid century style the best.
Eulia King Size Bed
8. Liana Rattan Bed
Towards the tail end of the mid century period, rattan furniture became all the rage. There is something very decadent about rattan and cane in the bedroom. add some pampas grass and be careful you don't get the urge to throw your keys into the bowl!
Liana Double Bed
7. Margot Mid Century Style Bed
Margot is a beauty. Curved, fluted and elegant and most of all, comfortable. I could read the Encyclopaedia Britannica before bed while reclining on that headboard.
Margot Bed
6. Quilda Oak Bed
This mid century style oak double bed has a lovely vintage feel to it. Can you picture a rugged man in a lumberjack shirt chiselling it in a barn in Vermont? Well I doubt it's handcrafted at that price but it sure has that feel to it.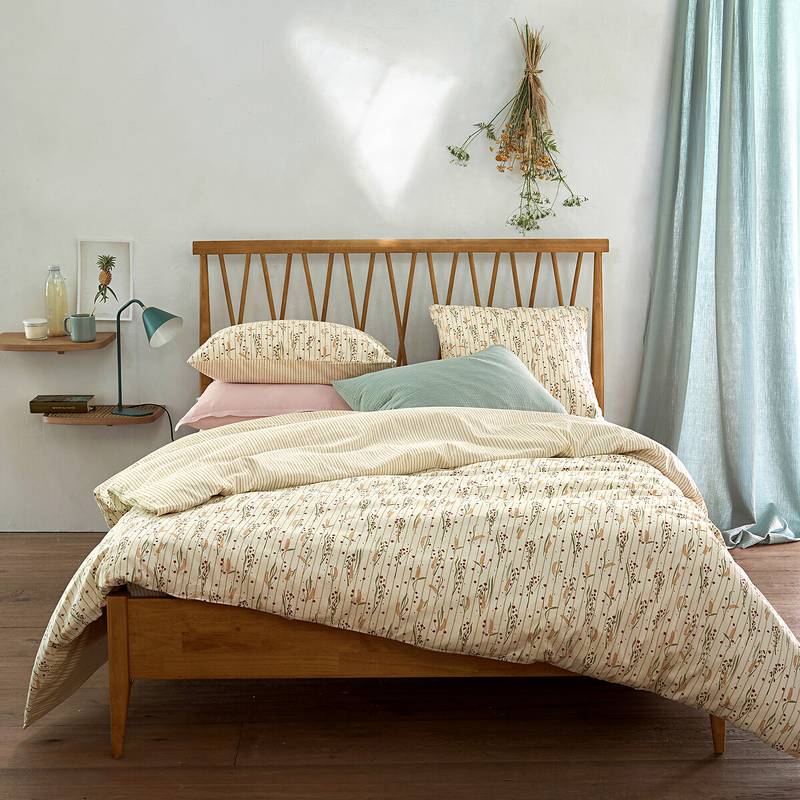 Quilda Oak Bed
5. Raffety King Size Bed
The Raffety is another classic mid century style bed. I feel as though I can see Rock Hudson and Doris Day eating breakfast in this one. For £699 there is a lot of detailing with the slight sleigh shape, the subtle buttoned back and the dark wood tapered legs. So glamorous. Think I might need to throw out my current nightwear and invest in some silk PJ's if I'm going to retire in this one!
Raffety King Size Bed
4. Buisseau Oak Mid Century Bed
An alternative rattan and oak design at an amazing price is the Buisseau Oak Bed. Love the retro styling of the headboard and again the tapered legs.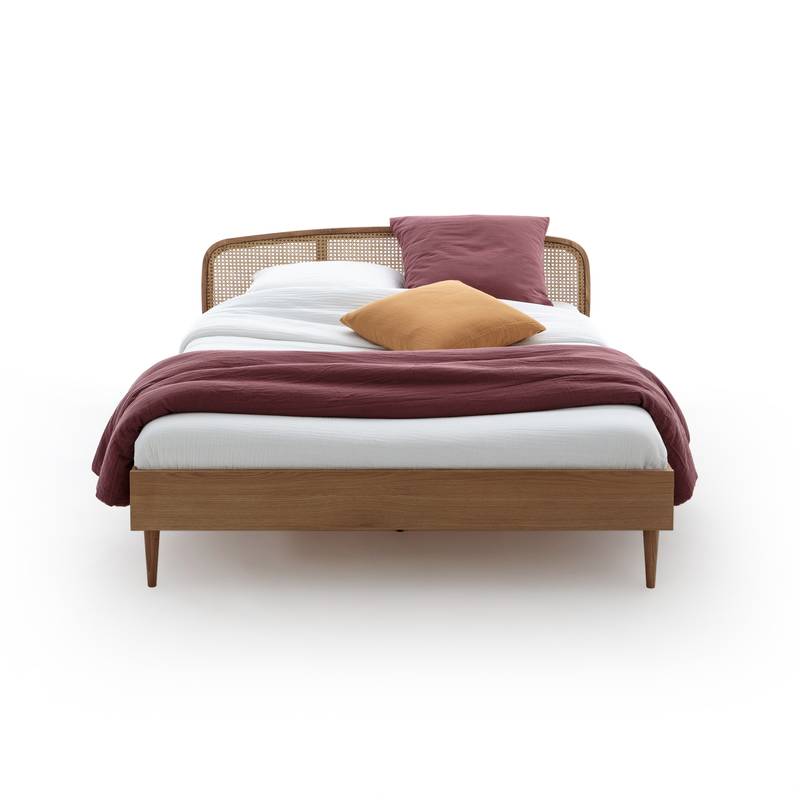 Buisseau Oak Bed
3. Roscoe King SIze Bed
Just look at the detailing. Those legs! Sexier than Marilyn's if you ask me! Available in a beautiful array of mid century colours. Like checking into a Mid West hotel in the 60's every time you go to bed.
Roscoe King Size Bed
2. Kooper King Size Bed
There is a choice of upholstery with the super curvy and retro Kooper but for me the white boucle fabric steals the show. It's such an authentic touch. Palm Springs all the way baby. Just be careful not to spill that tea when the teasmaid wakes you up!
Kooper King Size Bed
1. Charley King Size Bed
Charley Bed
Nothing says mid century like a winged headboard! Love the blue velvet finish and the wooden legs too. Super comfy and great value.
Hope you found something to suit your mid century style bedroom. If you need wardrobes, drawers and bedside tables to finish the room then click here to look at all our bedroom furniture.
And if you have a perfectly good bedframe and you are after a quick fix, you could just change the headboard. Check out the lovely rattan headboards below…