Is Gold The New Chrome?
We tend to associate Mid Century Modern style with chrome and steel. Certainly these were the metals of choice for most of the designers of the period. But in the 2020s there is only one metal that we want to see… gold! And it looks so good with mid century style. Is is a glamorous take on the MCM vibe. Think Beverley Hills in the 1950s and it seems appropriate. Combine it with marble, glass, velvet and leather for a truly opulent finish. Go on, give it The Midas Touch.
Bullion Sideboard
Let's start with tables with gold frames or legs. There are some beauties. DIning tables, coffee tables and consoles in a variety of styles. Paired with glass and marble tops they are luxurious show stoppers!
Chair legs are also now featuring a gold or brass finish. Whether it be a dining chair, an office chair or an armchair the gold adds that dash of glamour. Usually paired with velvet upholstery for the most opulent styling.
Gemma Velvet Tub Chair
Light fittings and floor lamps are also a stylish and easy way of injecting some gold accents into our interiors. Maybe a mirror and a piece of abstract art as well.
And last but definitely not least is the home accessory du jour…the drinks trolley. You simply can't pretend you are hosting a soiree in the Hollywood Hills without one.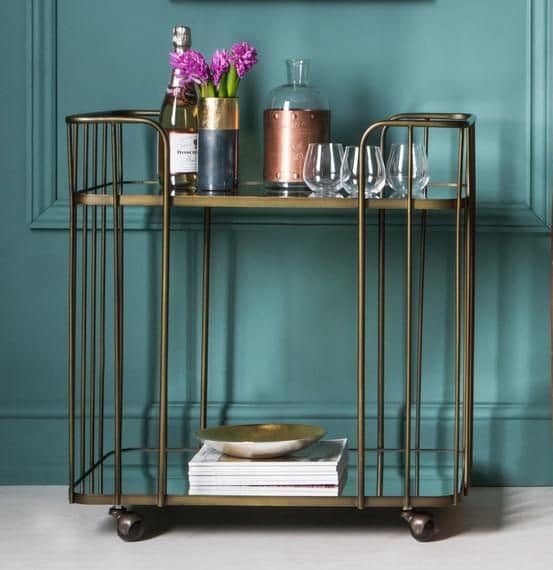 Mimosa Drinks Trolley
We know you will be looking for more marble and velvet furnishings to complete the picture so check out our guides to Mid Century Marble and Velvet Furniture.