What defines a mid century modern chair?
When we speak of the mid century modern period this refers to a minimalist style of design that became popular between the 1930s and the mid 1970s. After World War II the need for low cost furniture and the introduction of mass production techniques really pushed the envelope when it came to the mid century look. So when choosing my favourite md century modern chairs it is elements of those groundbreaking techniques that I am looking for.
1. The Eames DSW and Eames DSR Chairs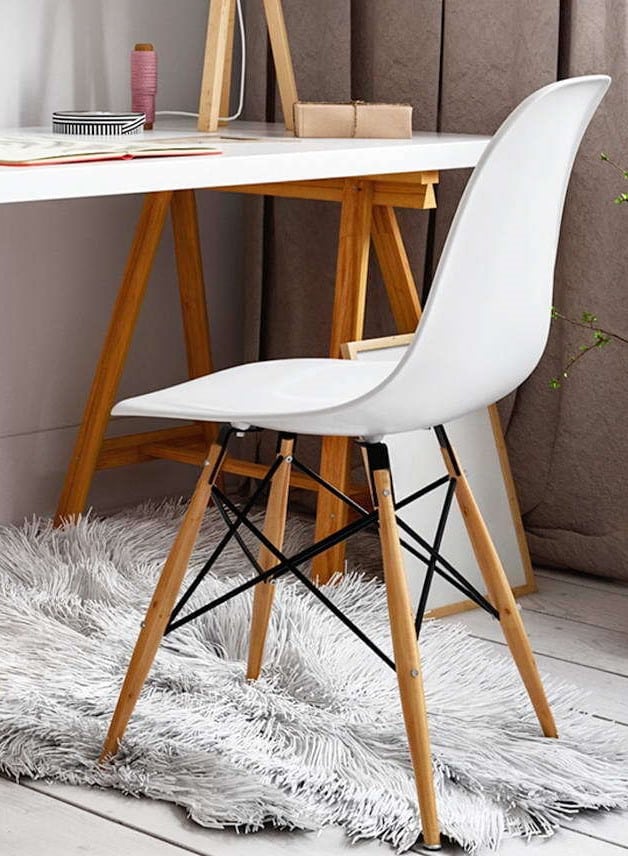 Eames DSW Side Chair
In 1948 Charles Eames literally broke the mould in his use of polypropylene in the design of the DSR and DSW chairs. He created the unique chairs for a competition launched by MOMA to find the best inexpensive designs. He only came second but history has proved his design to be the clear winner. Vitra provide the "official" version of these chairs in Europe but frankly at £280.00 per piece, they are hardly in keeping with the spirit of the design. That's probably around 1000% mark up on what they cost them to make. Fortunately, copies are available that Eames would be proud to see in use in thousands of homes and businesses across the world. It is perhaps a victim of its own success and familiarity breeds contempt. But as an affordable and stylish mid century chair it simply can't be beat.
2. The Cesca Chair by Marcel Breuer
Cesca Style Naya Cane Dining Chair
Designed by marcel breuer in 1928 its design is perhaps a little early to be counted as a mid century chair. But what can I say? Marcel Breuer was ahead of his time! It was strikingly modern with its tubular steel frame. And funnily enough it is most redolent of the latter end of the mid century period. It became hugely popular in the 1970s when rattan was in vogue. And it is undoubtedly topping the fashion charts in the 2020s too. Available with a natural frame as above or with a black frame for the full 70s vibe. The licensed Knoll version will set you back around £680.00. THere are second hand originals available on ETSY for about half that price. Or you can buy a good copy. The ones shown below are such a snip at £125 each. There is a lot workmanship in those chairs!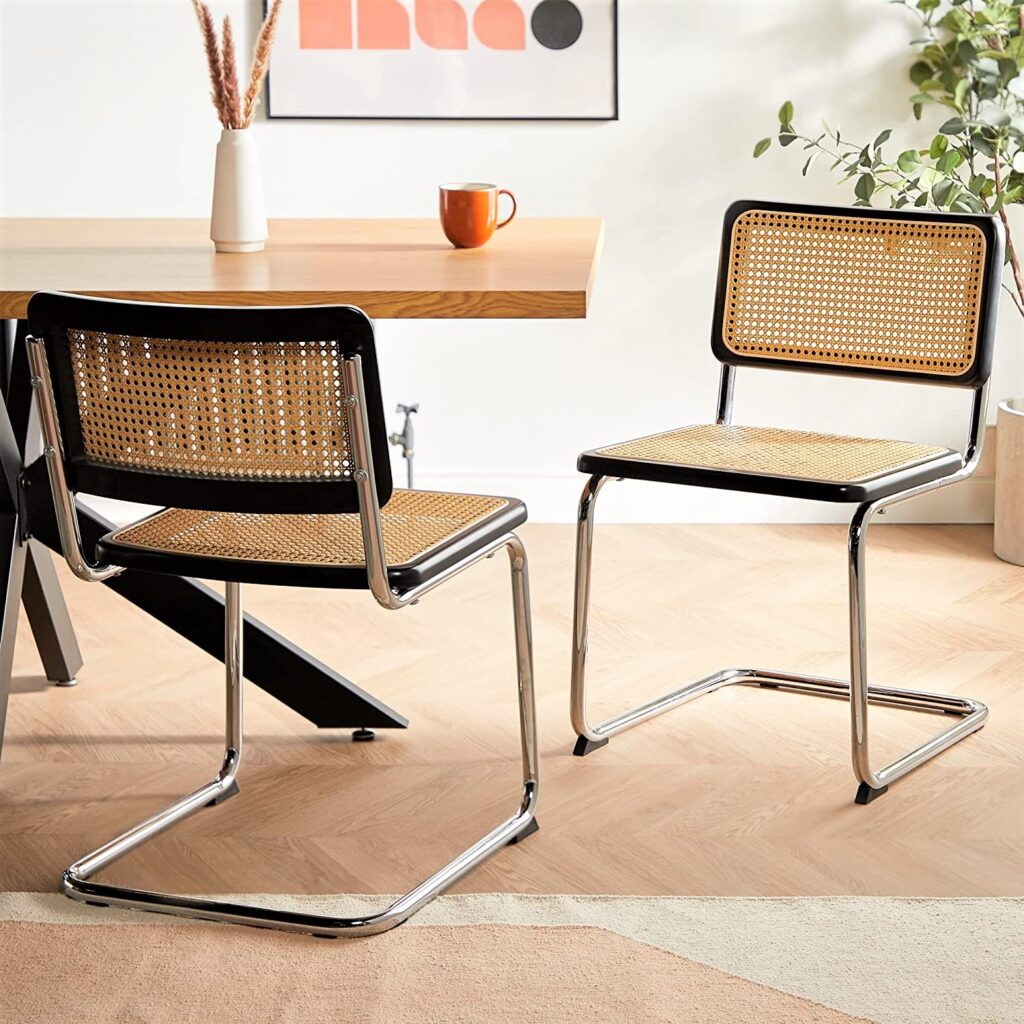 Spinningfield Set of 2 Cesca Style Dining Chairs
Read more about the Cesca Chair in our blog.
3. Wishbone Chair by Hans Wegner
Wishbone CH24 Y Chair
This elegant curved mid century icon is perhaps the most recognisable Danish chair. Sometimes called the "Y" Chair de to the shape of the back and also as the CH24 it is a mid century Scandi classic. It is found in hotels and restaurants across the world. It can be used a as a dining chair or as an occasional chair and is perfect for use in the kitchen, living room or office. The real Carl Hansen versions are around £480 to buy so the copy we show here is under half the price.
4. Edwin Dining Chair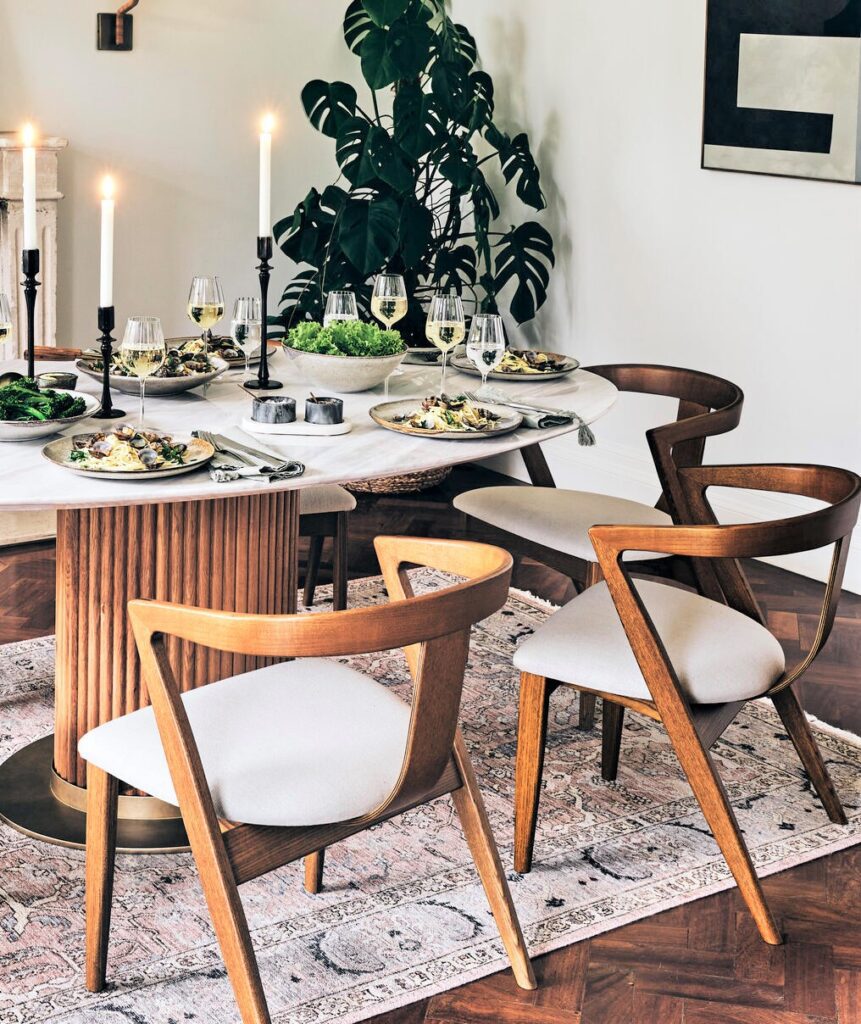 Edwin Dining Chair
The Edwin Dining chair is apparently inspired by the mid century modern chairs in Soho House Berlin and I think it's a stunner. I do love all the famous designs above, but it is nice to find something less well known that still hits that MCM sweet spot. And I think the Edwin chair fills that gap perfectly. Handmade in Italy, the curved support back is crafted from one continuous piece of ash wood that has been steam bent into shape. The chair's deep-sit form is enhanced by a comfortable linen cushion. Luxurious!
5. Nishan DIning Chair
Nishan Dining Chair
Another modern take on mid century modern design this one has a hint of industrial styling but the weave on the back softens its appearance. This could be a classic in the making. And not a bad price either.
6. Pair of Dean Street Dining Chairs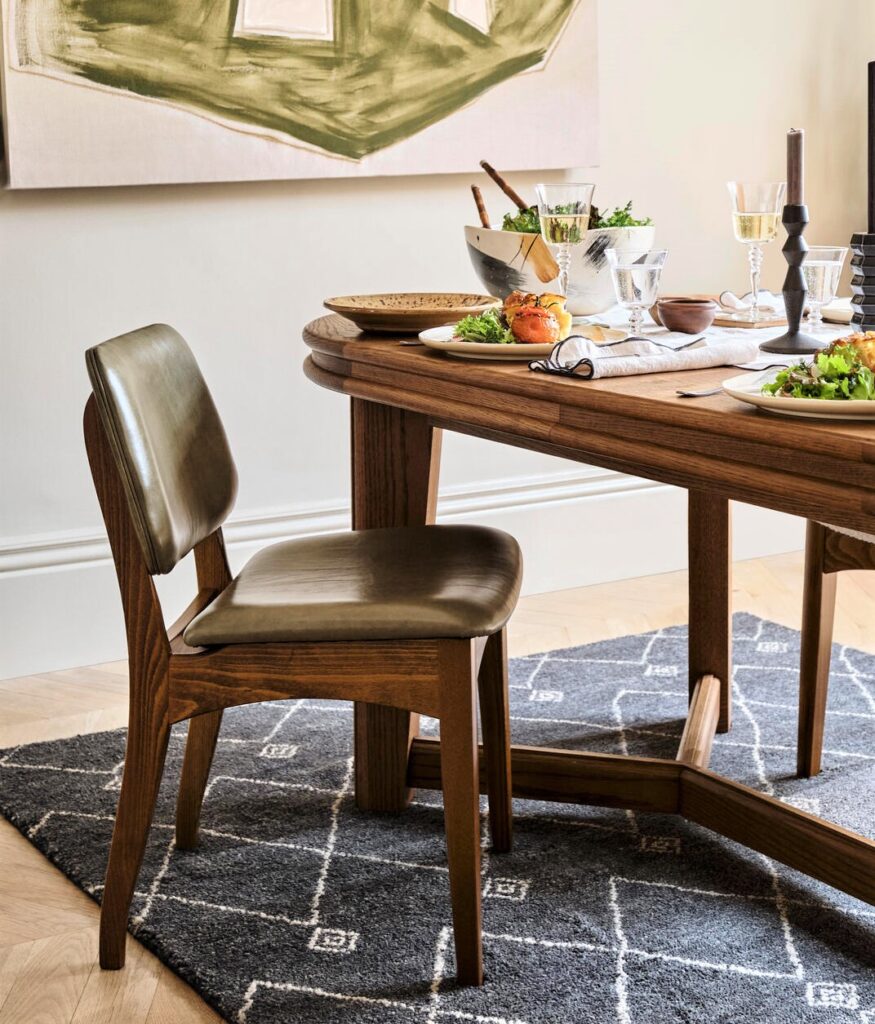 Pair of Dean Street Chairs
Upholstered in Italian sage leather with a solid FSC Beech frame, this Pair of Dean Street Chairs is inspired by the styles seen at Soho House 76 Dean Street. Mid century classics dining chairs.
7. Ubud Rattan Dining Chairs
Ubud Rattan Dining Chair
Taking inspiration from Franco Albini's cane chairs from the 1950s the Ubud rattan dining chair brings a lot of mid century Italian glamour to the dining room, kitchen or terrace. Like the American post war designers Albini created affordable furniture for mass production but he preferred the charm and warmth of traditional materials, such as cane. Rattan has had a huge comeback of late and these chairs a a great way to introduce it to your home.
8. Two Boucle Dining Chairs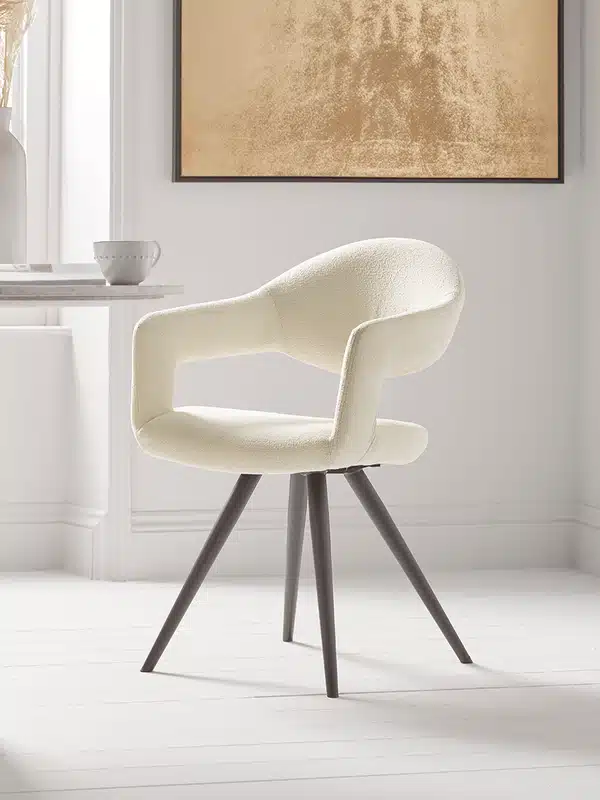 Two Boucle Dining Chairs
These boucle upholstered chairs are bang on trend for 2022/23. They make a very comfortable seat for dining or even as an occasional chair in the living room. I just hope I can get the ketchup out! The dark splayed legs add the requisite mid century feel. Sold as a pair they are very reasonably priced for such high end glamour.
9. Eero Saarinen Tulip Chairs
Eero Saarinen Style Tulip Chair
In the 1950s The Museum of  Modern Art in New York announced a competition for "organic design in home furnishing collection". Eero Saarinen developed the Tulip Chair as part of his research and he subsequently entred this into the competition and won.
The Tulip Chair and its corresponding pedestal table, represents the peak of Eero Saarinen's career. Eero Saarinen's ability to blend colour, form and materials remains remarkable.
The licensed Knoll version retails around £1,300 from Nest. The Zazous copy of the Tulip Chair is faithful to the original design in size and materials and costs £150. It's a classic mid century dining chair that makes a powerful design statement.
See the classic Tulip Chair in use at the TWA hotel in JFK airport and in Colman Domingo's uber cool MCM pad in Southern California.
10. Folk Dining Chair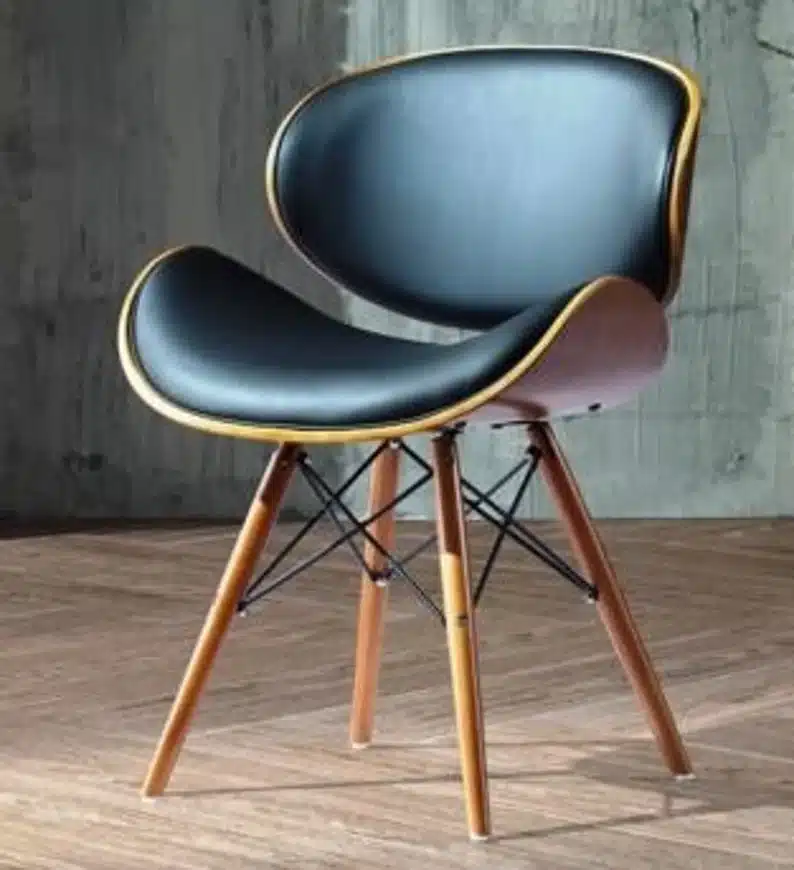 Folk Dining Chair
Last but not least is this leather dining chair which used the same legs as an Eames DSW and a similar bent plywood frame and leather upholstery to the Eames lounge chair. A modern invention but inspired by some great mid century classics. What's not to like?
If you don't see any dining chairs that tickle your fancy try browsing all of the mid century chairs we have found.
Should I buy a licensed Vitra Eames DSW chair or a cheaper copy?

The Eames DSW and DSR chairs were designed specifically to be a low cost chair that could be mass produced and affordable for everyone. So the copies are far more in line with Eames's original vision than the overpriced Vitra version.
Can I repair a CESCA chair if the rattan is damaged?

Many companies ell spare backs and seats to fit the CESCA chair so yes it is quite easy to fix.