MID CENTURY MODERN: THE HISTORY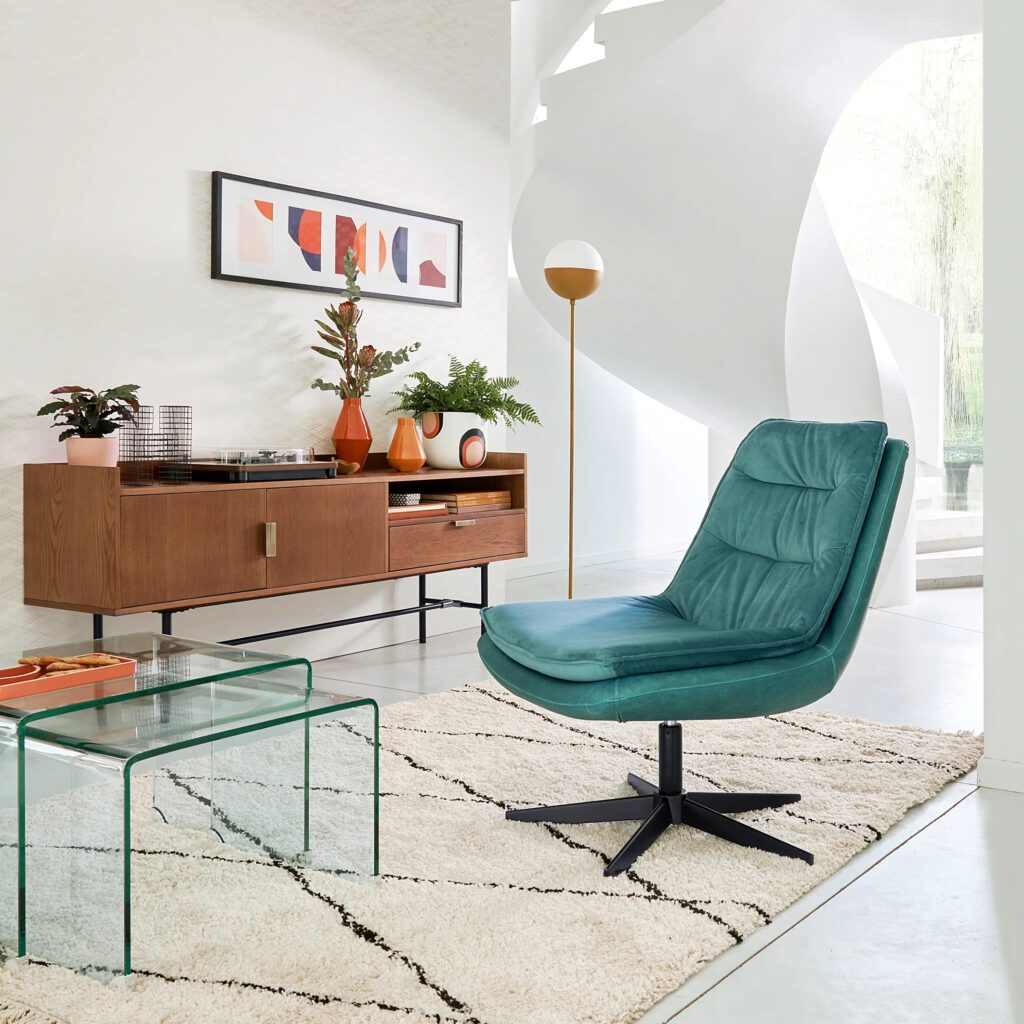 The term Mid Century Modern was coined in 1984 when Cara Greenberg published her book Mid Century Modern: Furniture of the 1950s. But its usage since then incorporates a much wider sphere and timespan. It can include architecture, interior design, product and graphic design, and urban developments. It rose out of the Modern movement and takes much of it's design cues from Scandinavian designers such as Arne Jacobsen, Alvar Aalto and Sigurd Lewerentz and also from the European work of Le Corbusier and Mies van de Rohe. Mid Century Modern was primarily an American movement that added more decorative accents to the purity of the "function over form" ethos. So while it is often still minimalistic it is not afraid to add a touch of frivolity to the design – probably because America was coming out of the Great Depression, doing very well financially from the war, looking forward to the future and ready for bright colours and some fun. Hence MCM style has more of a retro and sometimes kitsch appeal, whether it be a sunburst mirror or an organic curve that gives a "Flintstones" vibe to a piece of furniture or a piece of graphic design. And one must never forget that it is heavily intertwined with the Jet Age, the Space Age and the Atomic Age. Anything that makes you think of a UFO or Thunderbirds has its roots in Mid Century Modern design.
In order to look at all the different architectural styles covered by Mid Century Modern it's worth starting with the world's mecca for MCM buildings…
PALM SPRINGS
If one thinks of Mid Century Modern architecture the first place that springs to mind (pardon the pun!) is Palm Springs, California. It simply looks so right there. A house that juts out across boulders into the desert cries out for MCM styling.
So let's begin with my favourite house ever built. The Kauffman House, built in 1946 and designed by Richard Neutra, it was the forerunner for all MCM design.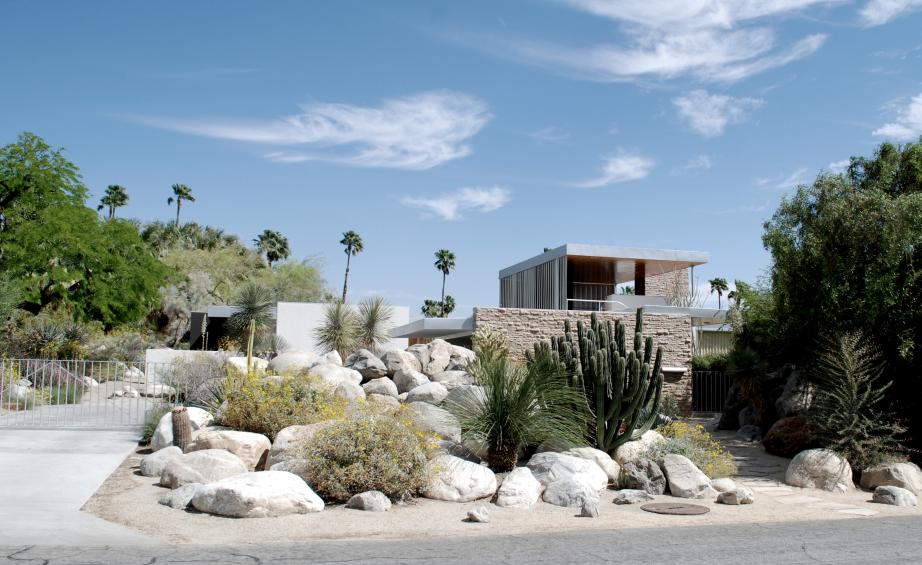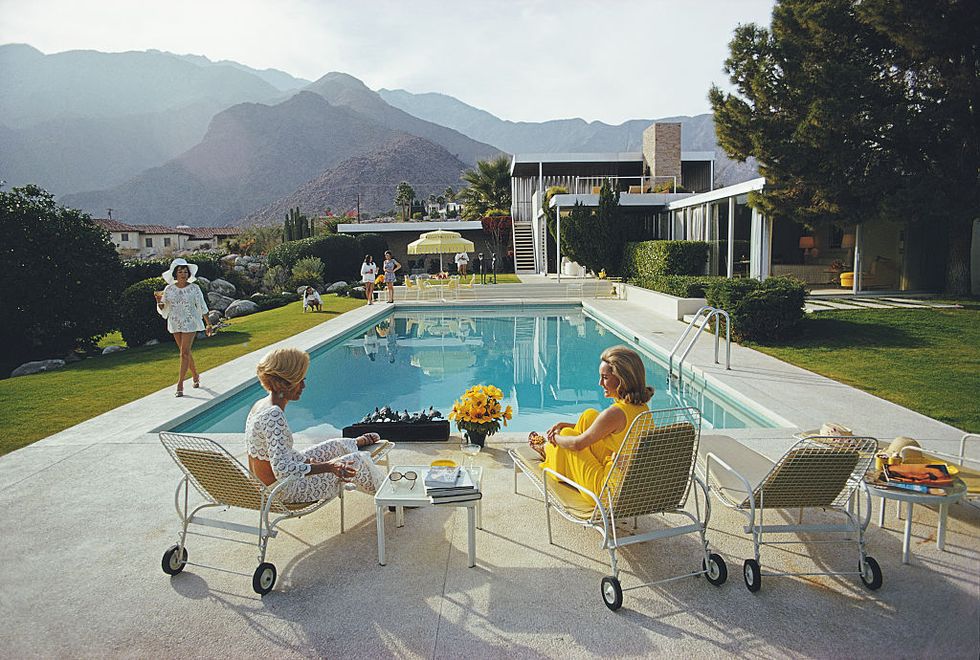 Palm Springs became a popular getaway for the Hollywood elite as early as the 1930s when the marvellous Racquet Club opened it's doors. The second world war put a bit of a dampener on the Palm Springs development but in the postwar years the rich and glamorous poured in, transforming the desert town into a winter playground. The minimalist Desert Modern style merged with the burgeoning Tiki trend (which was so redolent of having good times on vacation) and took inspiration from the Space Age too. That is what gives Palm Springs its delightfully kitschy appeal.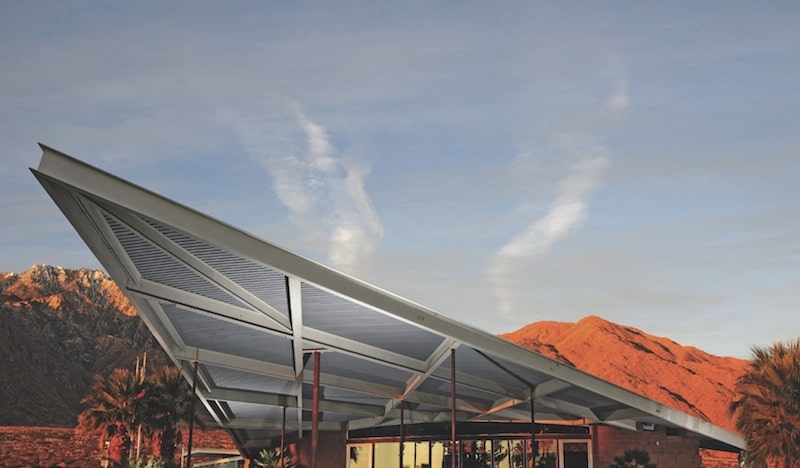 Interior design featured the same mix of materials that mid century modern furniture would embrace. Wooden cladding on walls and ceilings. Stone walls that are reminiscent of the boulders outside. And actual boulders protruding into the interior wherever possible. Large plate glass windows. Shag pile rugs. It all shrieks decadence.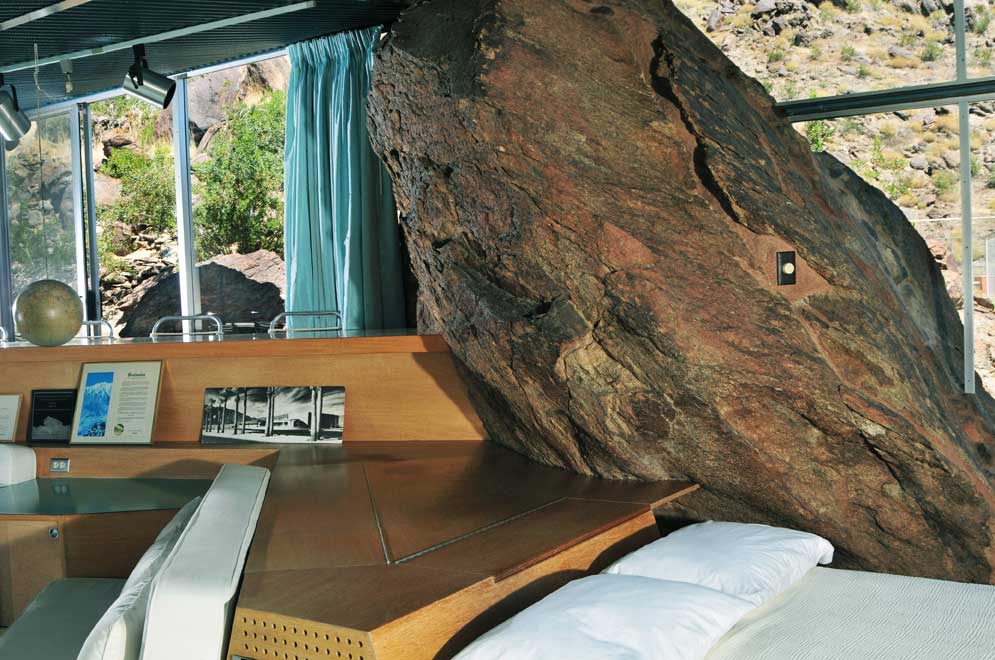 MID CENTURY MODERN FURNITURE
And along with the architecture came fabulous Mid Century Modern furniture. Architects became furniture designers and created biomorphic sensual shapes by utilising the new materials that had been developed during the war. There was a proliferation of startling new designs. The groundbreaking works of Charles Eames and Eero Saarinen with their curvy moulded plastics and plywood. Isamu Noguchi and his boomerang and atomic particle shaped table. George Nelson's innovative storage wall and first L shaped desk. And many many more. This new furniture was all about modern life: It stacked, folded and flexed. It was mass produced. It was for everyone. And it looked like it had been beamed down from outer space.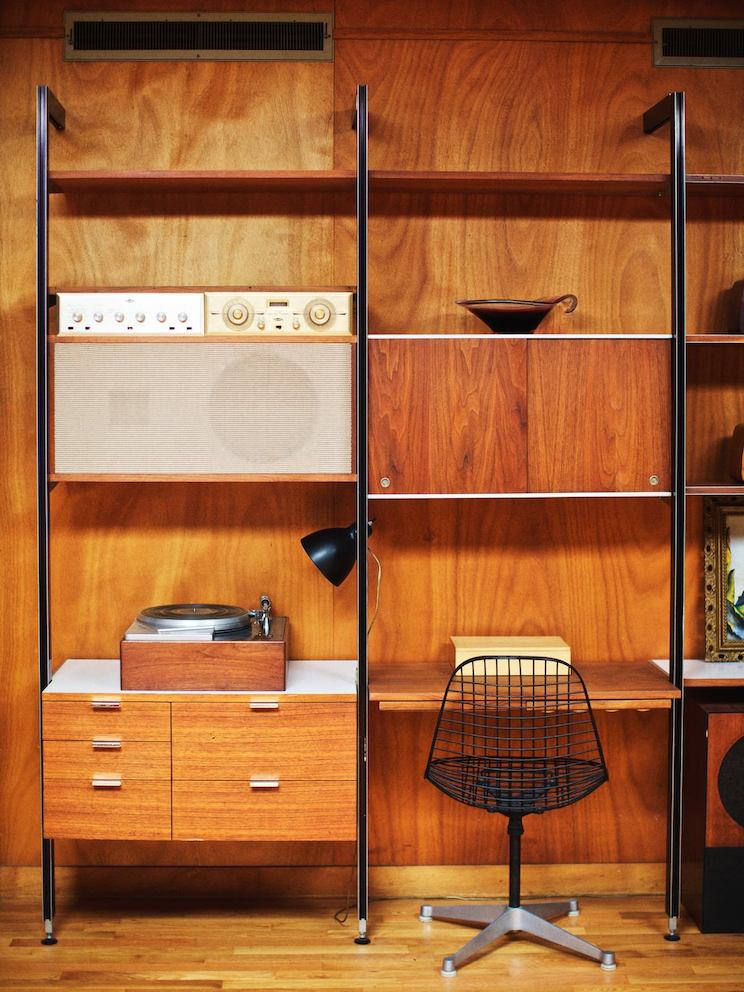 SCANDINAVIA: THE SOFT MODERNISTS
Meanwhile, in Scandinavia, other designers remained dedicated to the tradition of handcrafting their chairs and tables rather than using mass production techniques. And they preferred to explore working with natural elements such as wood and leather over plastics. Think Hans Wegner's Wishbone Chair or Alvar Aalto's gently curving birch-and-beech wood chair.
MCM IN BRITAIN
In Britain in the 1950s the architects came up with their own nomenclature. They described the new style as New Empiricism, New Humanism and Soft Brutalism. This described the gentle modernism that retained the simplicity and functionalism of modernism but softened it with decorative touches. Festival style was a term coined after the Festival of Britain of 1951 and heralded a truly British vision of the Mid Century Modern style. Robin and Lucienne Day were the British equivalent of Charles and Ray Eames. Robin created affordable furniture with great style from moulded plywood and polypropylene. His Polyside chair would become ubiquitous in offices, classrooms and canteens across the country.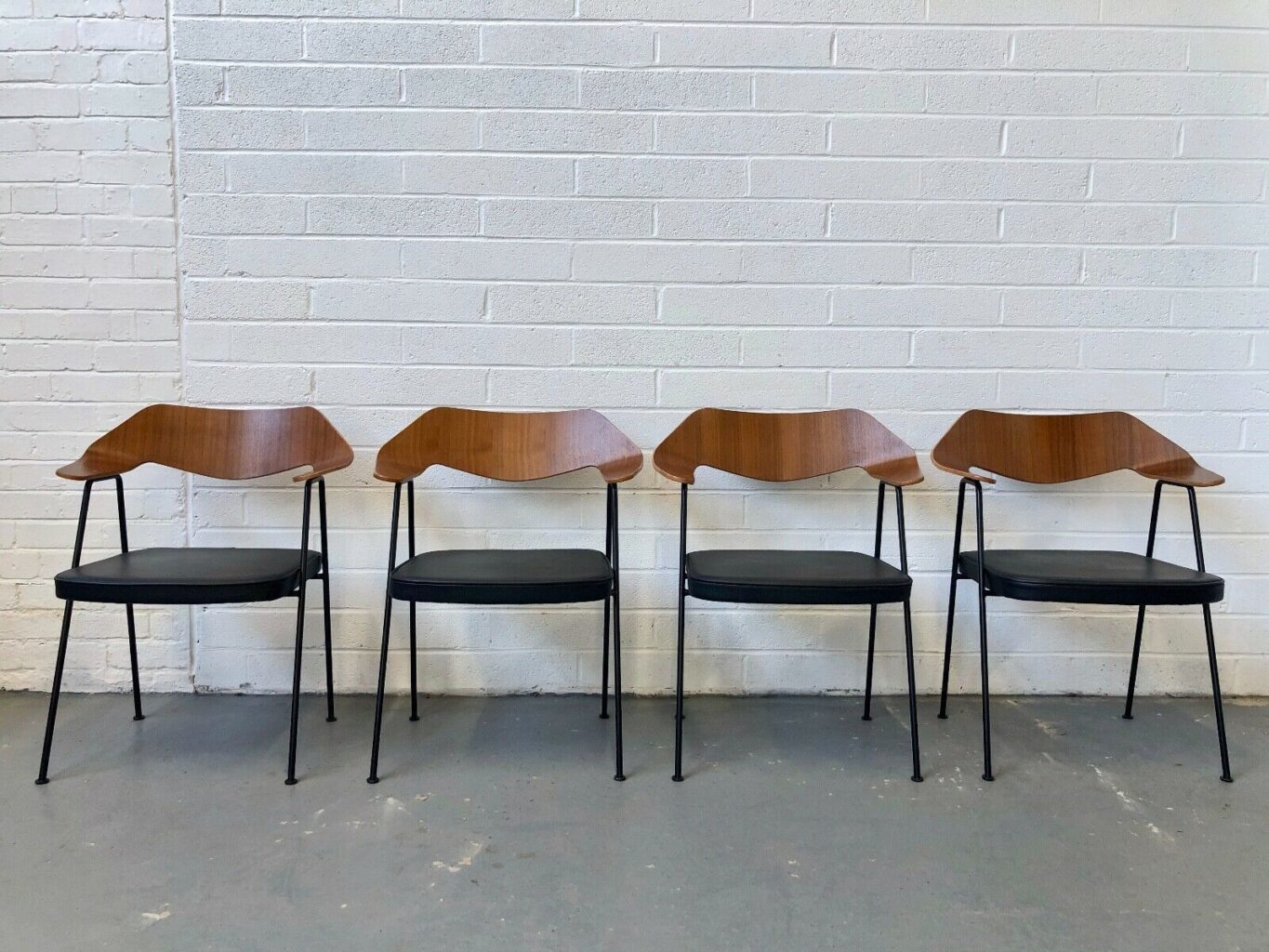 Meanwhile, Lucienne Day was leading the world of textiles with her atomic inspired designs. Following the huge success of her Calyx design (shown below) she went on to produce more than 70 textile designs for the retailer, Heal's. Her Dandelion Clocks produced in 1953 is still a popular fabric today.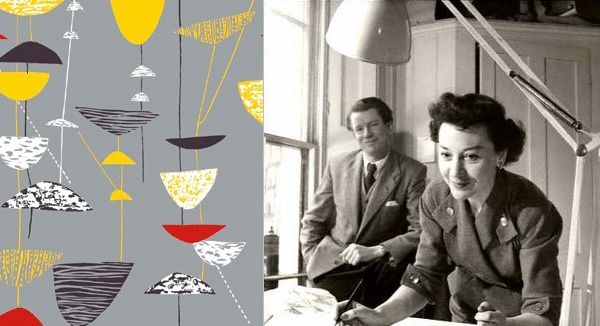 MID CENTURY MODERN GRAPHICS
Graphic design in this period sprung from both the Bauhaus Movement and the Swiss International Typographic Style. The latter favoured asymmetric layouts, use of a grid, sans-serif typefaces like Akzidenz Grotesk and flush left, ragged right text. The Bauhaus style used primary colours, collage design with elements of human features expressed in an often surrealist style and lots of geometric patterns with nods to technology. After World War 2 many of these artists from Europe were forced to emigrate and found themselves in America. They brought these European styles with them and incorporated them into the forward thinking world of advertising in a booming economy.
Saul Bass is perhaps the best known graphic designer of the era and his work can bee seen in movie posters and credits galore.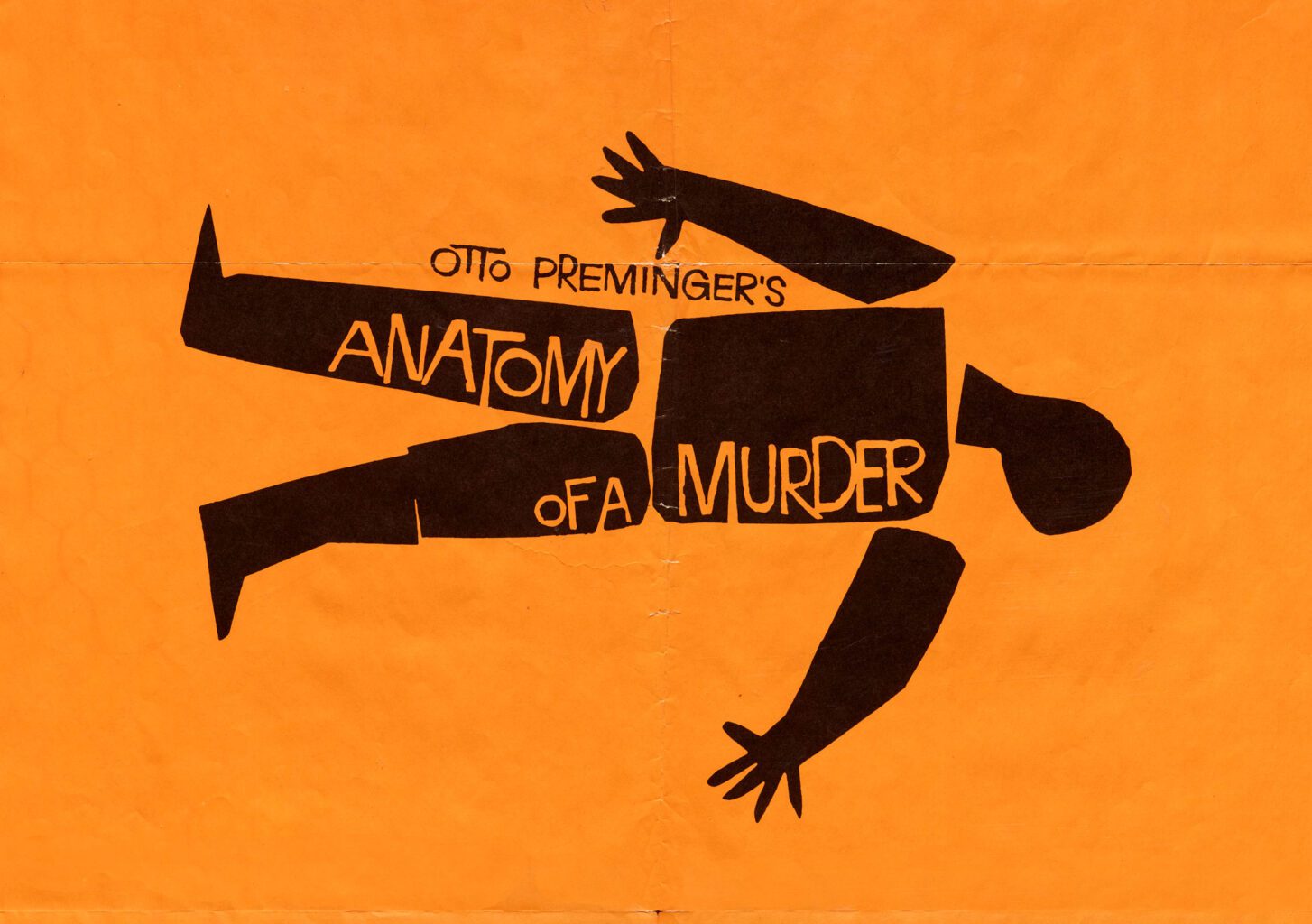 MID CENTURY MODERN TODAY
In the 1990s there was a renewed appreciation for Mid Century Modern design. Anybody who was anybody wanted an Eames Lounge Chair and Ottoman. This was certainly encouraged by the sitcom Frazier which showcased it beautifully. Later, in the noughties the style again appeared in the series, Mad Men. Mainstream furniture manufacturers have introduced sofas, sideboards, drinks trolleys and many other items in a mid century style and gradually it became the prominent trend in furniture design. The key design features to look out for are splayed legs or hairpin legs on all types of furniture including desks, chairs and beds, buttoned backs on sofas, reto fabrics such as velvet and bouclé. Perhaps the most on trend MCM style right now is the trend for retro rattan and the wonderful classic Cesca Chair from Marcel Breuer that combines rattan with tubular chromed steel.
IS MID CENTURY MODERN HERE TO STAY?
The pandemic has led to a rise of the home office and the home bar which has fuelled a resurgence in the desire for Mid Century Modern designs. And nothing combines glamour and comfort quite so well. I think an eclectic mix of MCM styles with other pieces, whether they be antiques or contemporary designs, will be the way forward over the following decade. And as long as movies and TV shows keep revisiting those eras there will always be a new generation ready to embrace the ultimate in cool design.