Are you drawn to mid century modern furniture and accessories but you're not sure how to incorporate it into your period interior? Don't worry! In my view the most stylish homes blend decor and furnishings from multiple periods to create eclectic and personal interior schemes. If a home is styled in one period style it tends to look a bit staged and bland. And worse, if that style is traditional, it will look stuffy and old fashioned. So, here is our guide to help you add a dash of mid century modern to your classical mix.
MID CENTURY MODERN IN A TRADITIONAL SPACE
Are you lucky enough to live in a high ceilinged neoclassical, Victorian or Georgian home? Does it boast fabulous mouldings, ornate fireplaces and feature windows? These period properties are innately fabulous but can look a little dull f you opt for furnishings that echo the style of the room. Steer clear of Laura Ashley brocades and flock wallpapers. Keep the walls neutral and add some mid century modern touches. This will ensure it has a cool, cutting edge vibe.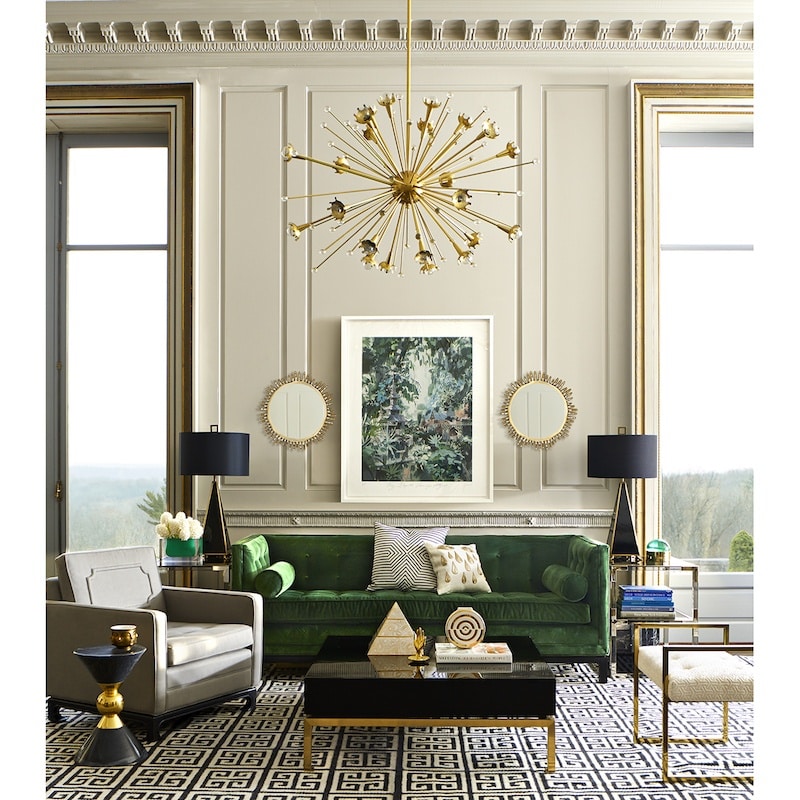 Striking light fittings add that splash of MCM bravura and break up the otherwise classic interior design. The gold accents are stunning and work beautifully with the traditional style green velvet sofa. The overall effect is striking and bold.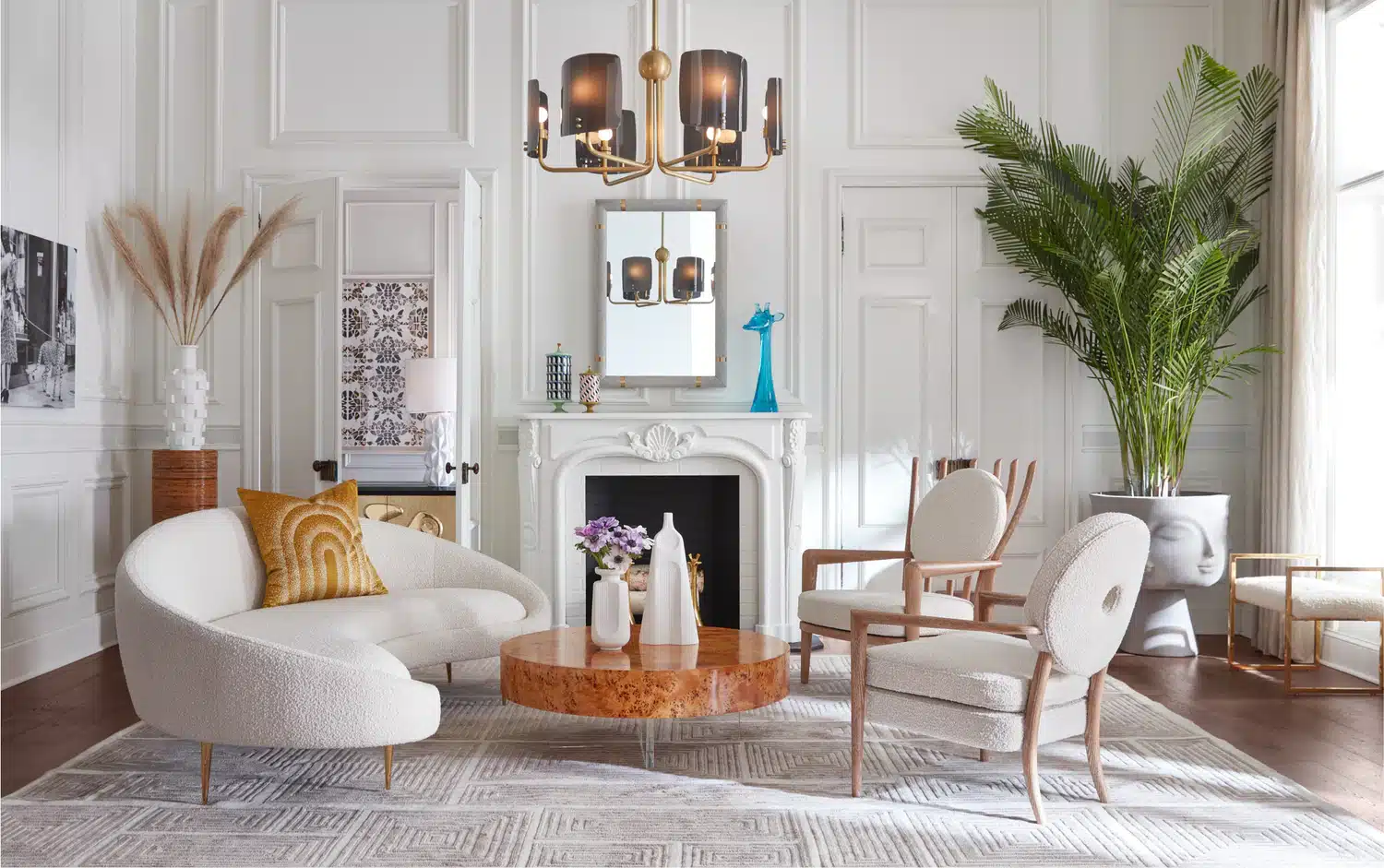 Another stunning period property that couldn't be further from being stale and old fashioned. The light fitting is a fantastic mid century piece. A white curved sofa is art deco influenced in glorious boucle fabric. The gigantic palm ushers in a wonderful tropical feel and the pampas screams 1970s.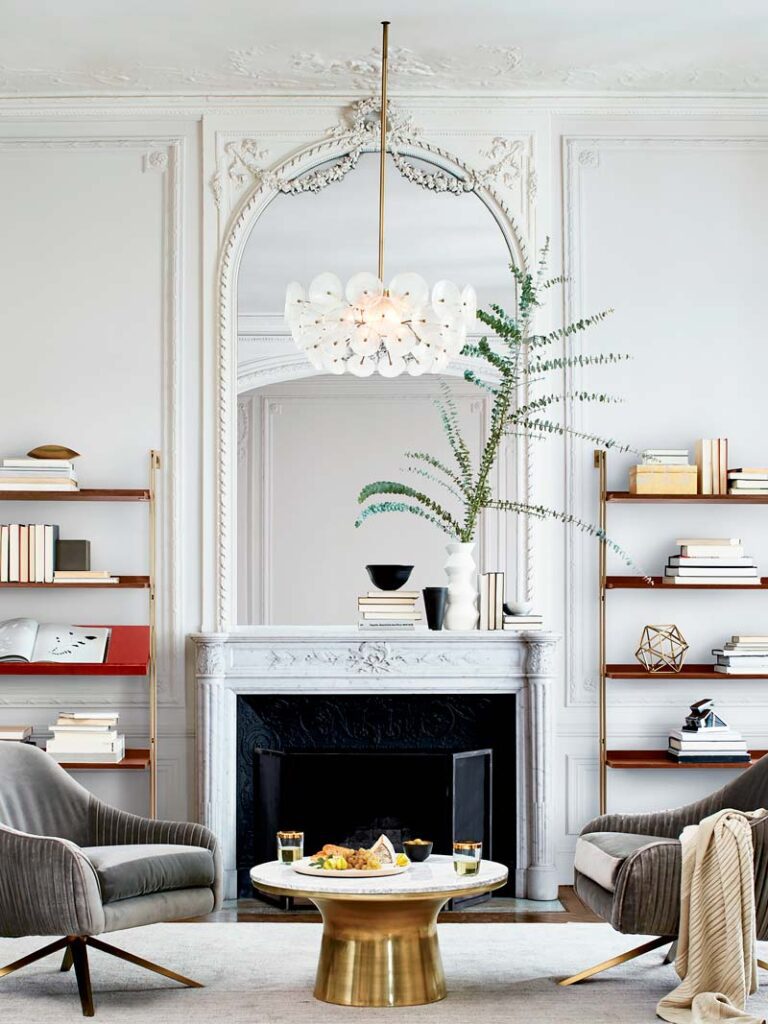 This wonderful Rococo room uses all mid century modern furnishings and succeeds in creating an uber cool room. I can't imagine anyone watching television in a room like this. Serious philosophical discussions only please.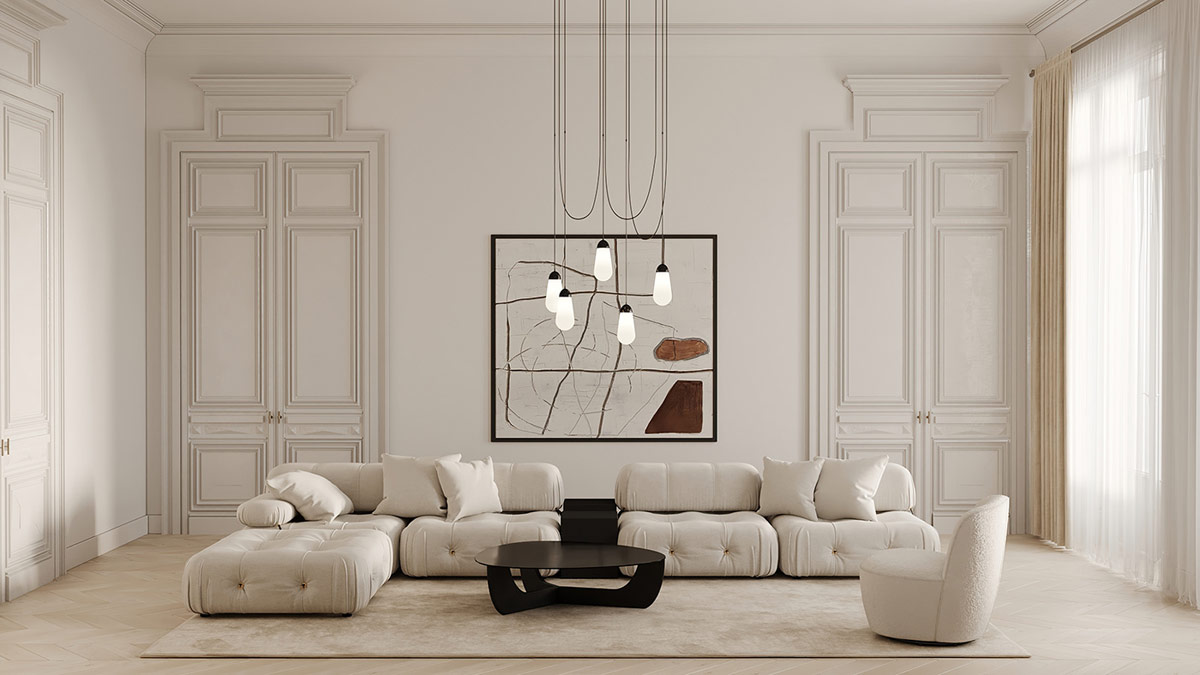 With a huge 1970s style white modular sofa, a signature black coffee table and an industrial style light fitting this space seriously rocks! But check the red wine at the door please. If this doesn't convince you that contrasting MCM style with classical rooms, nothing will!
Livienne Chaise End Corner Sofa
Another blank white canvas with period mouldings contrasted with a curvy white sofa. This time with a statement silver coffee table and mid century side chairs. Grown up and understated but never stuffy!
MID CENTURY MODERN IN TYPICAL VICTORIAN PROPERTIES
As amazing as all those examples are, most of us don't live in rooms with such grand proportions. We've found a few images of more typical Victorian properties that have succeeded in incorporating mid century stylings.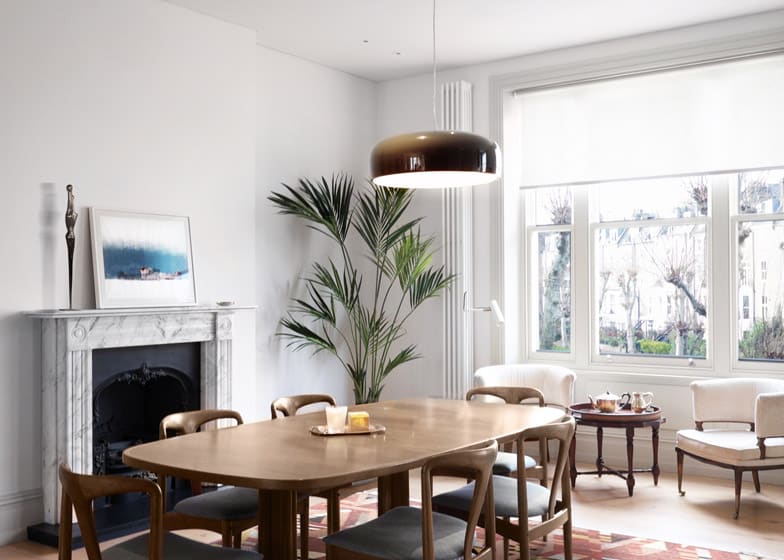 Two delightful mid century dining rooms in traditional homes. Wooden furniture, great light fittings and good use of greenery really transforms these two spaces.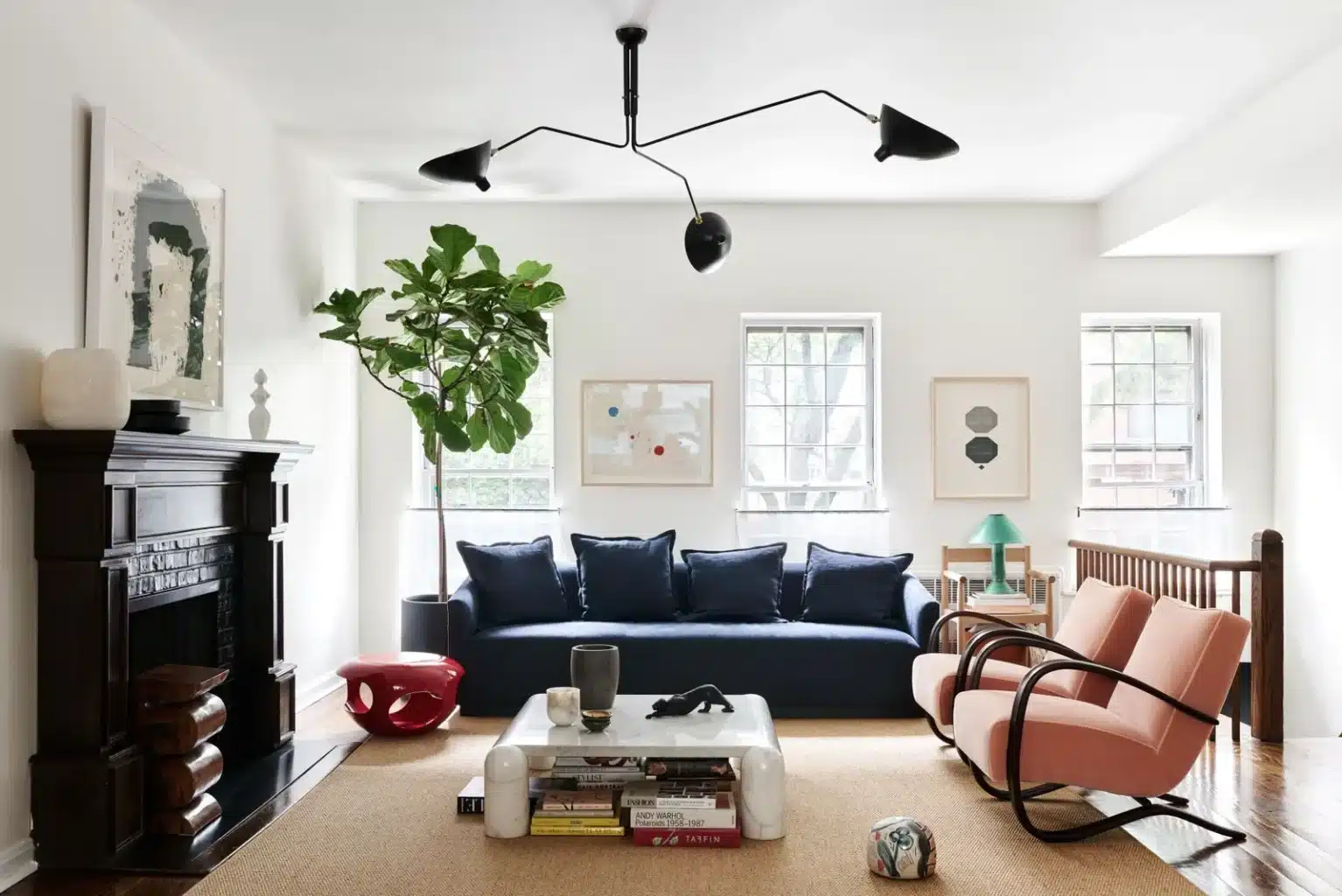 This lovely room on the top floor of a Victorian house blends the original features with a modern sofa and two gorgeous pink mid century modern armchairs.. It is a subtle mix and it looks as fresh as a daisy.
MID CENTURY MODERN STYLE IN RUSTIC COUNTRY PROPERTIES
Perhaps the most unexpected place to find mid century modern is in a country cottage. Certainly in Britain we expect chintz and chesterfields with rustic pine tables and chairs. In the USA however the MCM style was embraced in rustic cabins and works beautifully. Remember that Mid Century style embraced craftmanship in solid wood just as much as it did mass produced moulded plastics.
As you can see from these three beautiful examples the rustic style works best with natural materials and colours. Tan leather, rattan and wood. Mix it up with a few traditional pieces and it creates really warm inviting space.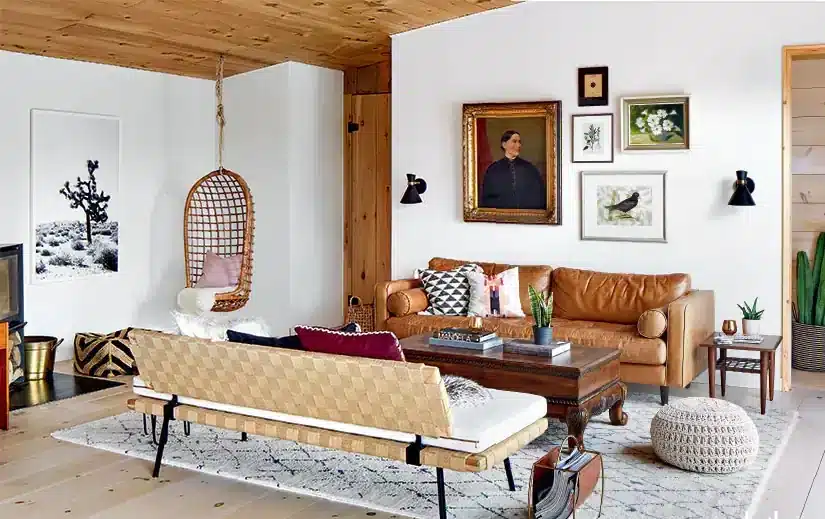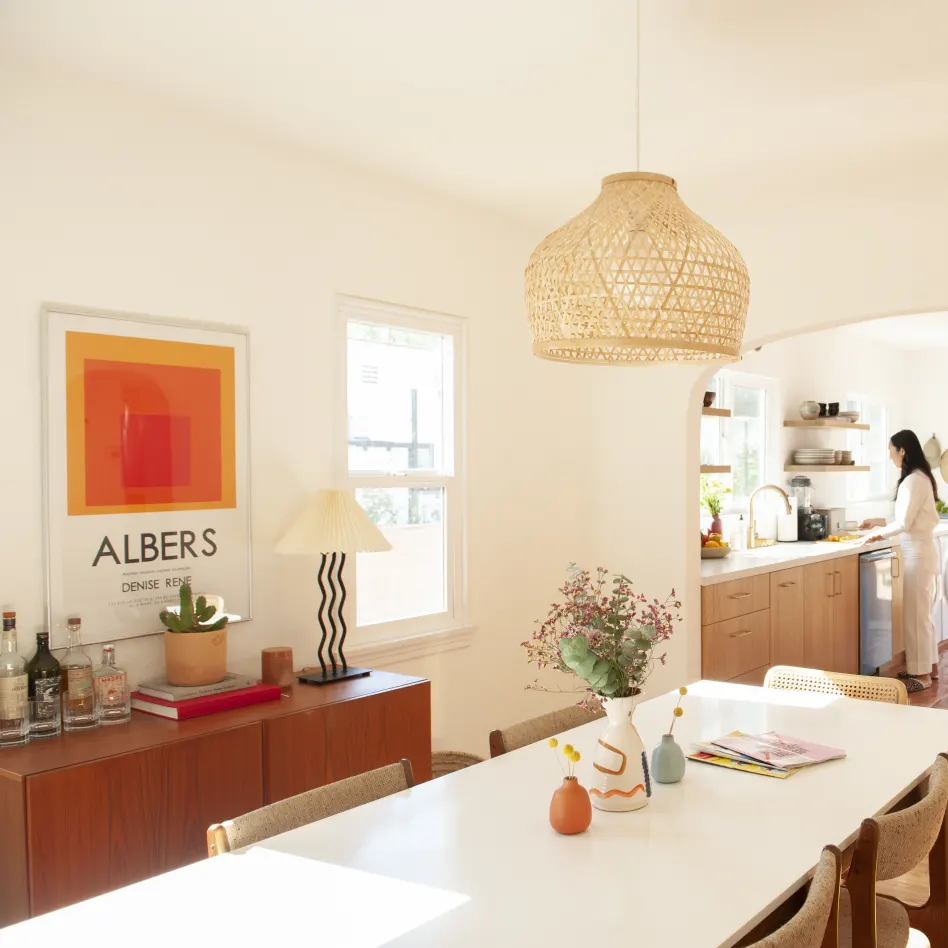 Hope that gave you plenty of inspiration and you're itching to get started. And remember that if you really love something it will probably look great anywhere so don't be afraid!