Sideboards are a girl's best friend as Marilyn liked to say. Well, she was American so I'm sure she would have used the term Credenza. Just saying the word credenza makes me get a little hot under the collar. It acts like a kind of portal to the jet age. Any 1950s house would have been bare without one. But let's be honest, who even has a dining room any more?
But wait! It looks so good in the living room or open plan kitchen/diner! It's a must-have item of furniture if you want to create the mid century modern look and such useful storage too! "It's in the credenza" she whispered. See? Sounds so sexy doesn't it?
The good news is, you are spoiled for choice if you want to buy one; from original credenzas to reproductions to new interpretations of the classic, you will found something to suit your style. Let's have a look at a few of my favourites.
7. Ankhara Sideboard
I love the rattan look that has made such a strong comeback this last year or so. With the black stained oak this has a very cool 70s vibe and would look great with any of the rattan chairs featured in our article on Retro Rattan Furniture here. The Ankhara Sideboard is a purse friendly £599.00. And if you like it a lot you can also buy a desk to match.
6. Geometric Inlay Sideboard
Wow! I love the geometric design on this stunning credenza from Cox & Cox. Perhaps not one for the Mid Century Modern purists out there, but when something's this beautiful, who cares? £1,250.00.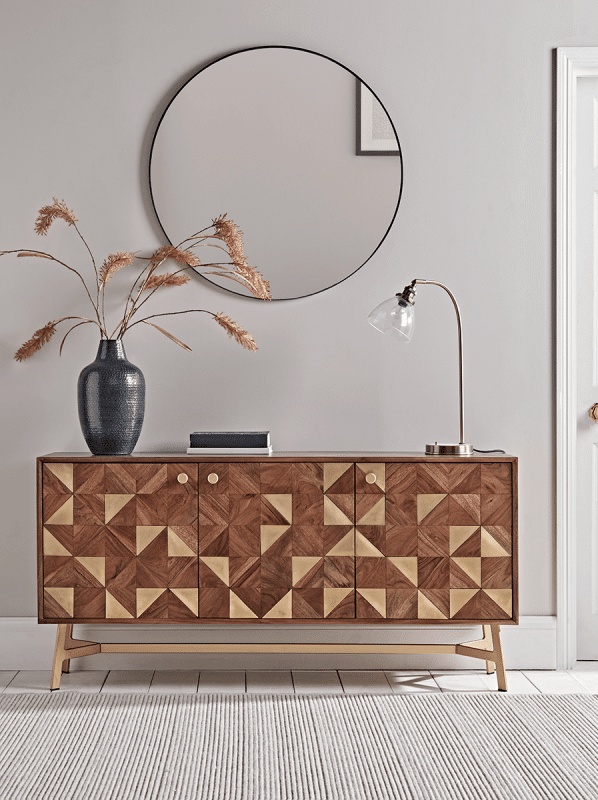 Geometric Inlay Sideboard
5. Topim Sideboard
Something a little different. A nice compact and curvy sideboard with a painted green front, walnut stop and gold finish legs. Very 1950's. Great for limited space.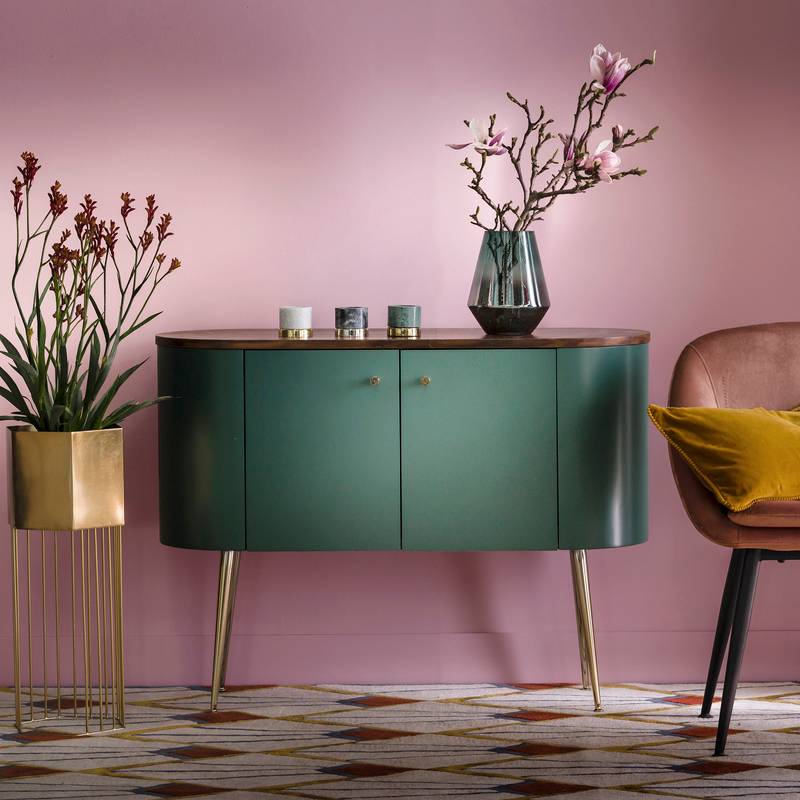 Topim Sideboard
4. Wapong Sideboard
Some fabulous styling on this one. Love the way the handles slide together to make a super 1960's style design. The flared legs are so en pointe and the lighter shade of wood gives it a Scandi feel but also possibly a hint of Vietnam if paired with some mid century rattan.
3. Bullion Sideboard
It doesn't get any more glamorous than this! Those doors aren't just sprayed to look gold, they have a brass sheet wrap to give that lustrous finish. Definitely a statement piece that will be the envy of all your friends. But make sure you dress for dinner from now on.
2. Keaton Sideboard
An understated mid century modern classic. Think clean lines, walnut veneer and slim metal legs. It's got two cupboards, two drawers, and room for fancy things on top.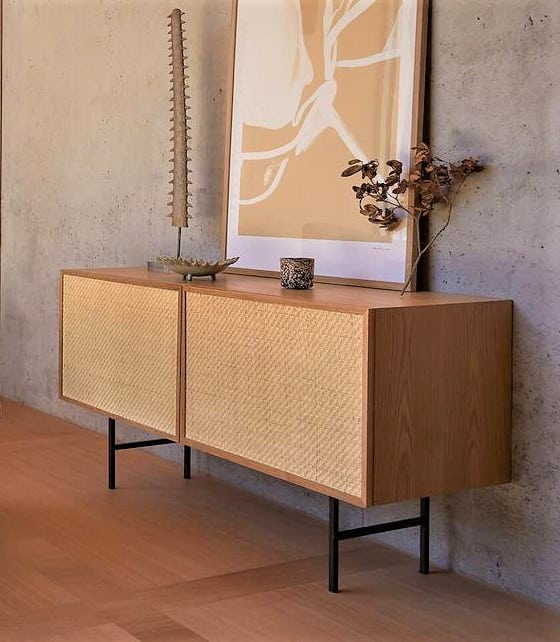 Pletenice Buffet Sideboard
1. Botello Buffet Sideboard
This has to be the best value mid century modern sideboard available to buy right now. I have no idea how they do it but I like it! In Ash veneer that has been stained to resemble walnut with steel legs and great looking handles. I can see Fanny serving up my Sunday roast from this.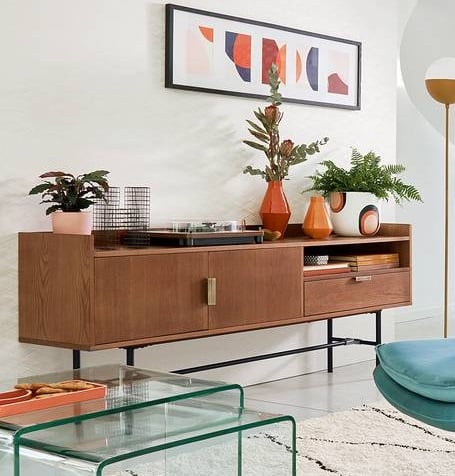 Botello Buffet Sideboard
So that´s all from me on the mid century modern sideboard (sorry, credenza) ladies and gents. Something for every budget and all tastes. Hope you enjoy!