The coffee table is arguably the most quintessential item of mid century modern furniture. Although they have been around since the 1700s they were generally the same height as a dining table. It was the 20th Century when the legs became shorter and the table lower. In the USA they became hugely popular in the 1950s along with the introduction of the TV set in family homes. They were low enough to rest drinks and snacks while not obstructing the view of your favourite programme. And of course coffee mornings became a huge fad in the 50s. Which is why it is important to choose a coffee table that captures that mid century vibe.
1. Noguchi Style Coffee Table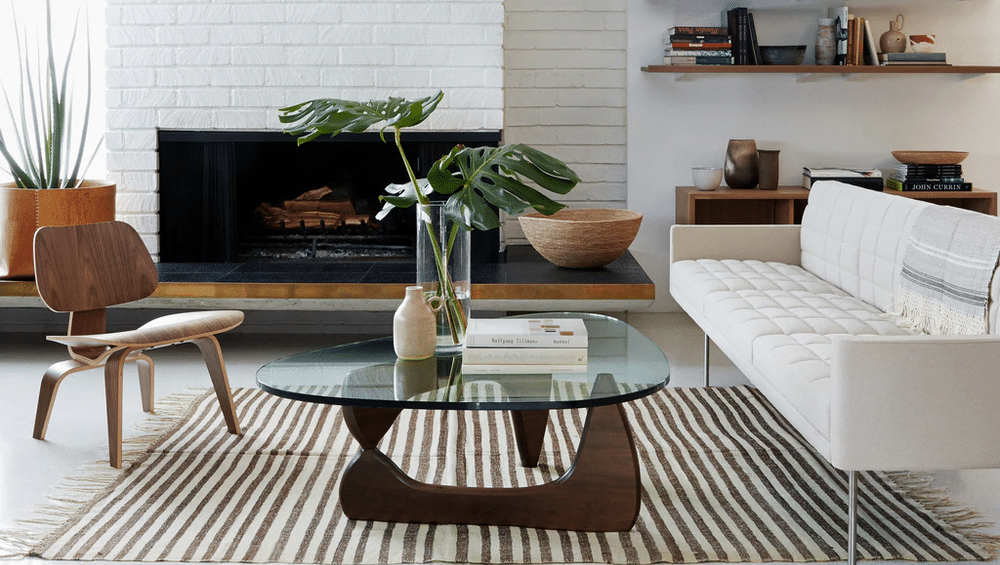 Noguchi Style Coffee Table
Number one has to be this iconic mid century design by Japanese sculptor, Isamu Noguchi. Given its sculptural appearance, it is remarkable that the table was mass-produced by the furniture manufacturer Herman Miller. Two pivoting and identical wooden forms are arranged inversely to one another with a thick and heavy glass top. Its shape is archetypal Atomic era design, with the almost boomerange design of the legs and the irregular curving triangle of the glass top.
The real deal will set you back around £1,900, from The Conran Shop. But for those with a tighter budget you can buy one that has been inspired by the orginal for just £400 from Zazous.
Being glass and wood this will work with any colour scheme. If you want to recreate the photo below, pair it with the Rosslyn Boucle Sofa for an authentic 50s vibe.
2. Ruben Triple Coffee Table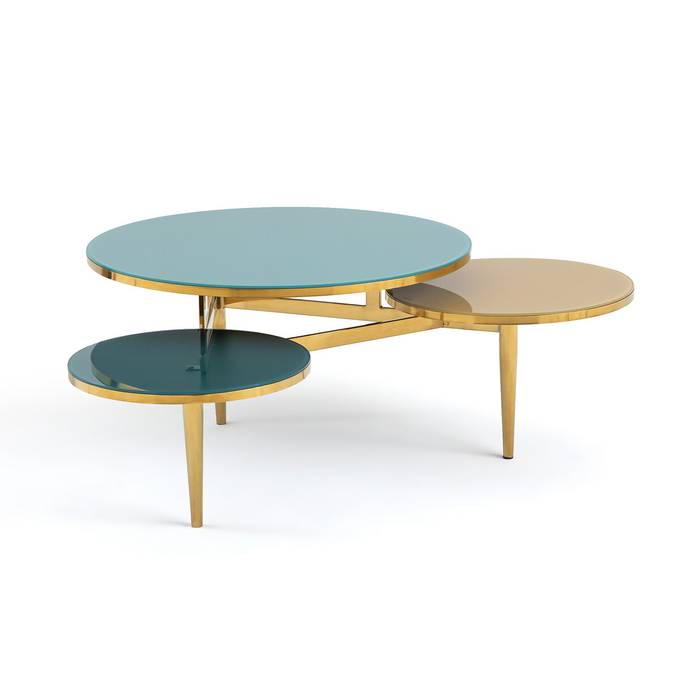 Ruben Triple Coffee Table
This striking coffee table used 3 tempered glass table tops in gorgeous mid century colours with a brass frame. It's a real stunner. Unmistakably retro it's a statement mid-century piece that would look fabulous with a blue velvet sofa or maybe this mustard chaise end sofa. It is £599.
3. Quilda Vintage Coffee Table
Quilda Oak Coffee Table
This oak and cane combok is a classic mid century modern styled coffee table. The two tiers provides valuable storage and in oak it will look great in a relaxed living room or a conservatory perhaps. It also looks great with the Quilda Vintage Oak Sideboard to complete the mid century theme.
4. Maricielo Walnut & Glass Coffee Table
This is a great alternative to the Noguchi if you want the walnut and glass but something a little different. Classic mid century styling. Works well with any other dark woods and muted or bright colours. I think this looks like a very expensive piece so it's amazing for £319.
5. Bergen Oval Coffee Table
Bergen Oval Coffee Table
For an understated Scandi take on Mid Century Modern I love this one. And it's a great price at £150 too. the concrete effect top and rustic style flared legs are super stylish. I'm sure Wallander would enjoy resting his mug on here.
6. Oki Square Caramel Glass Coffee Table
Oki Square Coffee Table, Caramel Glass
Mid century can stretch to the 1970s and this just screams Studio 54. Pop the Bee Gees on dance around the shagpile rug! £360 for the time travel experience.
7. Magosia Walnut Coffee Table
This is a timeless piece with a mid century flourish. Beautifully amde in solid walnut this is a heritage piece you can pass on tot he grandkids. And the price is great for such quality at £475.
8. Kedarpur Rattan Coffee Table
Kedarpur Rattan Coffee Table
We are huge fans of the retro rattan trend and this little coffee table looks great indoors or outdoors. It's a combination of boho and mid century that looks great with 1970s style sofas.
9. Watford Walnut Vintage Coffee Table
Watford Vintage Coffee Table
A very practical coffee table that allows everyone on the sofa to pop their coffee cups down. And a reasonable price for the size too. oozes mid century modern style and would look great with any retro sofa.¡, particularly one with walnut legs of course.
10. Green Marble Coffee Table
A real beauty this. An early take on mid century modern as the green marble is very Mies Van de Rohe and the Barcelona Pavilion. Would look great with Barcelona Chair or day bed.
Green Marble Coffee Table