Mid century modern office furniture for the home workspace is having a real moment. Until Coronavirus, 70% of the population of the UK had never worked from home before. Now, an estimated 20 million people have swapped the commute to the office for a hot desk in their home! Trips to the gym became a speed walk around the garden or a rowing machine at the bottom of the bed. For many, working from home may become a long term reality. So it's hardly surprising that many of the best office furniture designs are selling out across the UK!
Stylish Desks For The Home Office
Let's start with choosing the right desk. The first consideration is of course, where is it going? You will probably want quite a different look depending on the room it is occupying. If it's slotting into a space in the living room I love the darker wood choices. The Acorn Desk by West Elm shown here and priced at £524 is a real beauty.
This Mango wood desk has a gorgeous vintage feel and the large suspended drawers have plenty of useful storage.
If you have a spare bedroom that is hardly ever used then it's time to chuck out the bed and replace with a home office and sofabed for occasional guests. There are a lot of pretty desks and chairs that work beautifully in a bedroom as they don't look too "workaday"! This rattan desk has a lovely light feel to it and is a very reasonable price.
Maybe you are very short on space but could utilise that under the stairs cupboard as an office? take a look at his nifty custom built "office". Isn't it adrobale?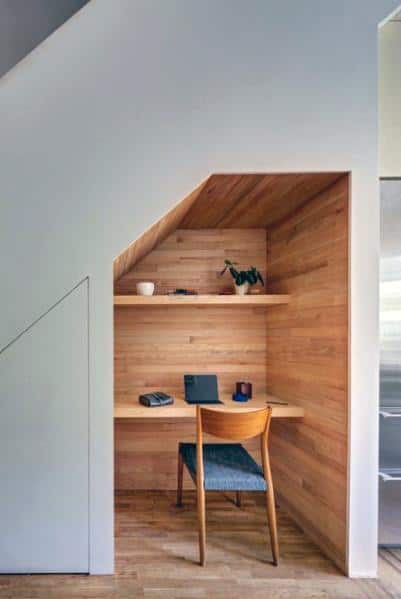 If space is no object and you need a lot of storage space to organise everything you might want to consider the String Office System which has all the bells and whistles and can be configured to suit your needs.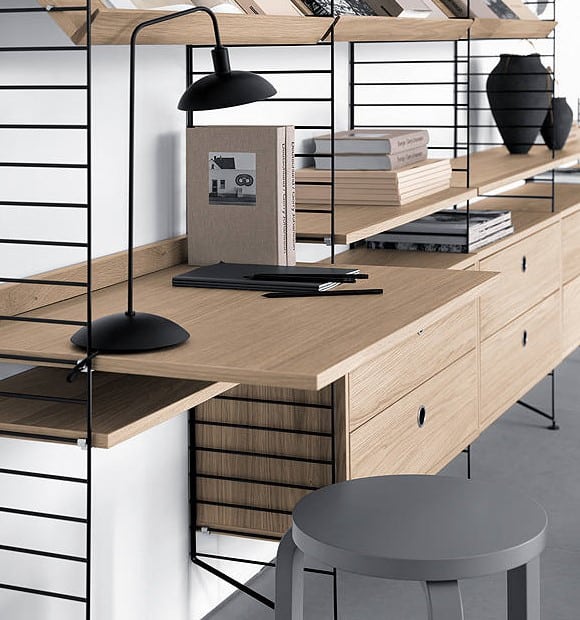 To see more details of all the gorgeous desks featured below simply click here, Mid Century Modern Desks.
Now you just need to find the perfect chair. Click here for our pick of the best mid century modern office chairs.