Mid century modern office furniture for the home workspace is having a real moment. Until Coronavirus, 70% of the population of the UK had never worked from home before. Since then, many people have swapped the commute to the office for a hot desk in their home. For many, working from home may be a long term reality. So, it's hardly surprising that many of the best office furniture designs are selling out across the UK.
Stylish Mid Century Modern Desks For The Home Office
Let's look at choosing the right mid century style desk. The first consideration is of course, where is it going? You will probably want quite a different look depending on the room it is occupying.
If it's slotting into a space in the living room I love the darker wood choices. The Glenn Desk shown here and priced at £429 is a real beauty. Crafted from dark-stained oak, this desk is sturdy and sleek and yet with softened edges and angled tapered legs, it has a surprising delicacy to its design. 3 discreet push open drawers make it practical too.
Glenn Desk
There are many alternatives which have a similar mid century dark wood appeal and would look great in an alcove in the living room. Check out these smouldering beauties…
If space is an issue a bureau or secretary style desk is a perfect solution because you simply pack it away at the end of the day. Larsen is a great example in a lovely Walnut finish.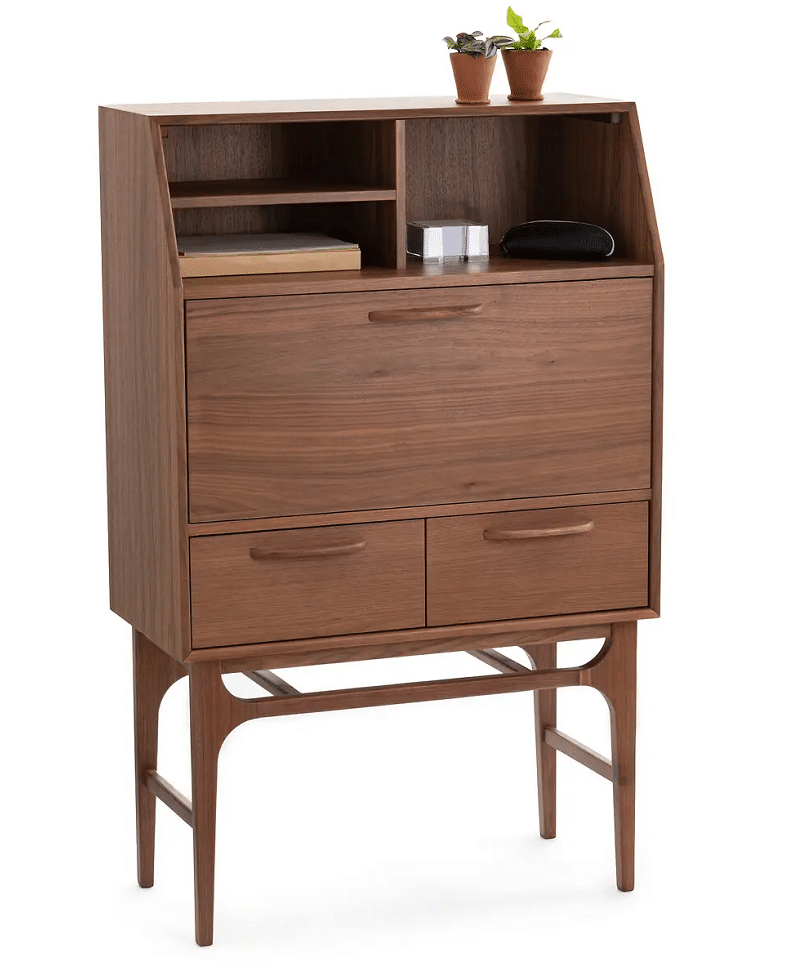 Larsen Walnut Vintage Secretary Desk
Ankhara is another gorgeous bureau style mid century desk that has to be top of the pile. What a beauty! Hits every style trend…rattan, curvy and mid century modern. It folds away and looks beautiful open and closed.
Ankhara Rattan Bureau Desk
If you have a spare bedroom that is hardly ever used then it's time to chuck out the bed and replace with a mid century modern desk and sofabed for occasional guests. There are a lot of pretty desks and chairs that work beautifully in a bedroom as they don't look too "workaday"! The dainty Jimi Metal & Wood Desk has a lovely light feel to it, looks great paired with a rattan chair, and is a very reasonable price at £ 168.
Jimi Metal & Wood Desk
Another pretty alternative for the bedroom office is Esme, a light ash desk with gorgeous curves she is made for the bedroom. Pavia is part of a whole matching bedroom range so you could go all out with the rattan and create a tropical bedroom with this look. And Ankhara is inspired by the mid century Cesca chairs designed by Marcel Breuer that are seriously fashionable right now. I love the black wood framing with pretty cane work. A real classic that can double as a dressing table. And a bargain right now in the sale!
I also adore the gorgeous Noya desk which would fit in any room of the house and add some serious glamour to your working day. The only issue is that I think I may only be able to write love letters or poems at a desk as romantic as this one.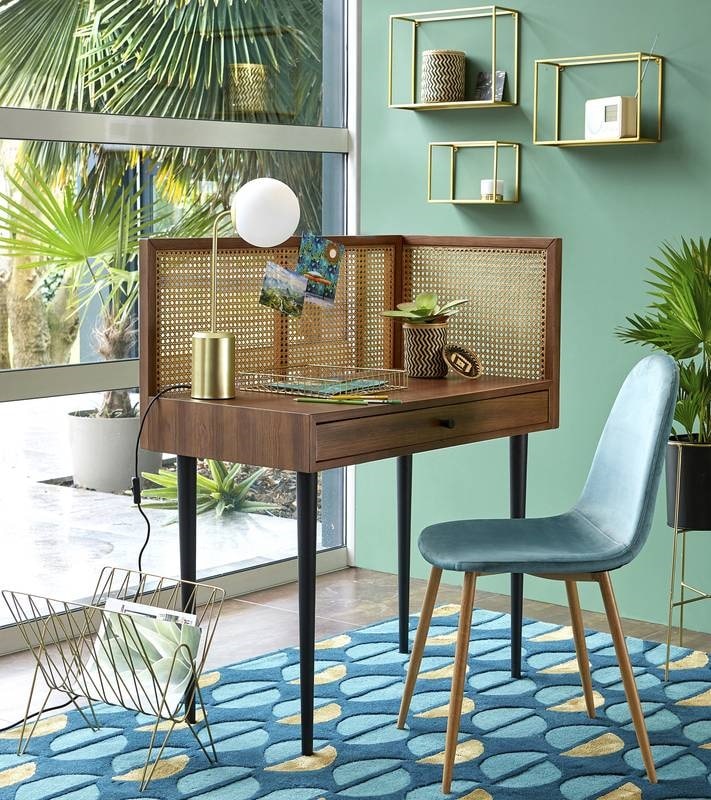 Noya Vintage Desk with Rattan Panels
There really is a wonderful abundance of mid century desks to choose from. To see more details of all the gorgeous desks featured below simply click here, Mid Century Modern Desks.
Now you just need to find the perfect chair. Click here for our pick of the best mid century modern office chairs.
What is the best size for a desk at home?
Desks are usually 122cm, 152cm or 183 cm wide and 61cm, 76 or 91cm deep. Choose the largest desk that fits comfortably in your space.  If you're between 5ft and 6.5ft tall then the height of your office desk needs to be between 71cm and 76cm tall.