Mid Century Modern furniture fans should get down to Brighton! Ever since the Prince Regent (later George IV) built his palace here in the 1800s it has been a mecca for well to do Londoners for dips in the sea, general merrymaking and shopping. By the 1960s the famous Lanes were renowned for their antiques shops. So it is a natural progression that in the 21st Century Brighton has become the natural home of all things vintage. Hipsters pour off the train in their droves to scour the shops and to eat and drink in its abundant pavement cafes and bars. The Lanes no longer have that many antiques shops but the city as a whole is home to some wonderful mid century modern furniture stores and cool flea markets. Here is our pick of the best.
ERA, 92 Trafalgar St.
Era boasts a hand-picked collection of antiques, mid century furniture and decorative items, ranging from modernist design to industrial salvage. All of their stock is refurbished to a high standard in house; they only ever list pieces once they are in a condition they would be happy to display in their own homes. On the top right is a Merrow & Associates 1970's cabinet in rosewood and chrome. She's a beauty and on sale at £975. The 1960's desk/dressing table below is £495. Either of these and much more can be purchased online via their Etsy Store or in person from the shop in Brighton.
Browse over 50 stalls selling everything from antique furniture to unique oddities in the heart of Brighton's iconic North Laine district. We found some great retro bargains. From a cute little rattan table and chairs set for £186 to vintage 1960's curtains at £35 and a variety of retro prints and examples of mid century furniture.
Just around the corner on Sydney St you will find Gander. I do love having a gander in Gander. It really does have a fabulous and colourful selection of furniture, rugs, ceramics, glassware, desk lamps and all sorts from the mid century period. There's no online shop that I can find so you really do have to get yourselves down to the North Laines and check it out.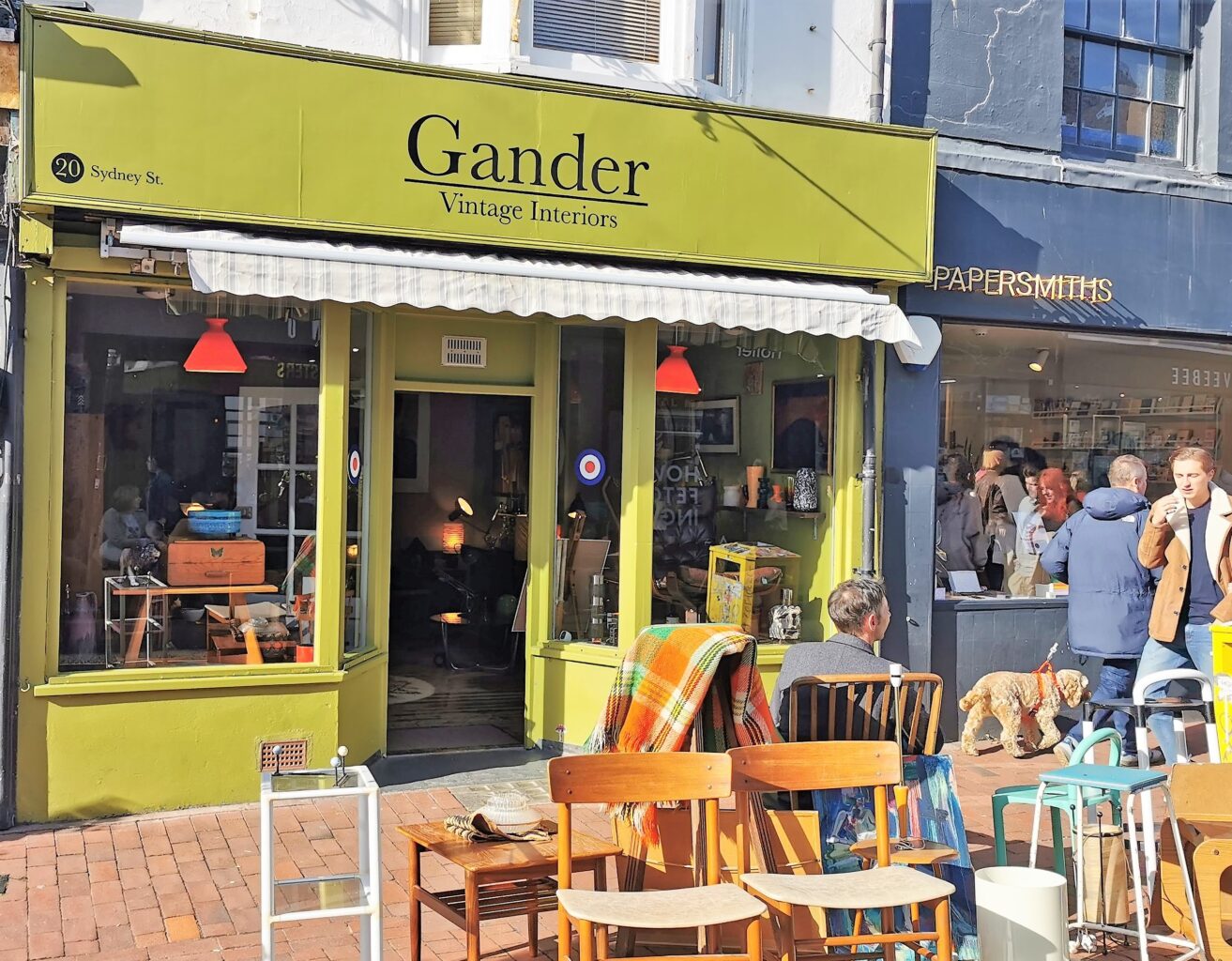 Mid Century and More is their tagline. Some beautiful vintage finds combined with lovely handpicked items that compliment the vintage vibe. Great for gifts and cards as well as large items for the home. Closed on Sundays so bear that in mind if you're here on a daytrip.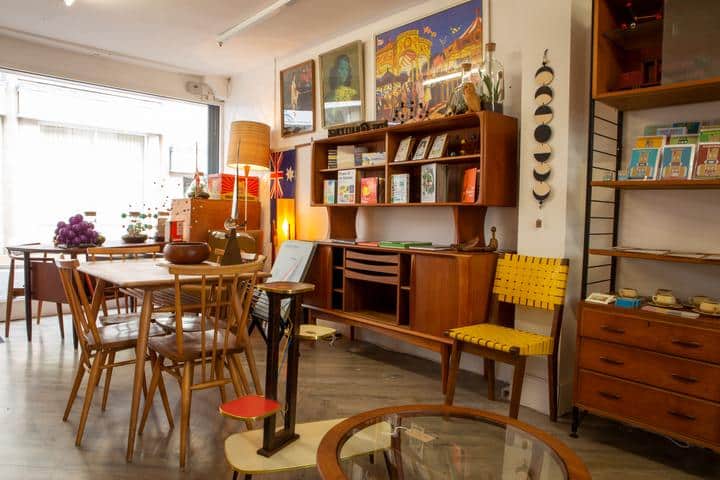 Room Service, 34 Upper St James's Street.
Stepping away from the North Laines area we head to trendy Kemptown and the impeccable collection at Room Service. If you want to casually browse come on a Saturday or if you are serious buyers they will open by appointment if you give them a call in advance. They specialise in mid 20th century furniture, lighting, objets and art and also offer an interior design service. Probably not the cheapest of the options listed but the quality and style of all their pieces is undeniable. They have a particularly great range of re-upholstered items. Their choice of fabric is always to die for!
Department is a "flea market' located on Blatchington Road, Hove. There are 30 stall holders selling quality unique pieces that compliment one another. A mixture of vintage furniture, clothes, textiles, homeware & accessories are all on show. Proprietress, Sophia Deeprose, took on this rundown two storey building a decade ago. The idea was to create somewhere in the heart of Hove that recaptures individuality rather than the homogenized state of our current high streets. Bygone Furniture is a particularly great stall with lots of mid century furniture. It's worth the trip from Brighton proper on the number 7 bus and I recommend a stroll back along Church Road where you can take your pick of lovely lunch spots along the way.
Brighton and Hove's vintage furniture shops really do make for a lovely day out. Hopefully you will return home laden with desirable and beautiful mid century modern pieces.