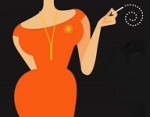 We all need something to cheer us in this bleak weather, don't we? I think I've exhausted the options of my drinks cabinet so its time to do a little shopping. Well browsing anyway… I'm a little strapped this month. Maybe if I ask Walter along…
Feb 6th & 7th
North London Vintage Market, Crouch End
10am – 5pm.
Admission £1.50
23 hand-picked stalls selling a range of kitchenware, fabrics, furniture, ceramics and all things mid century.
Very cosy I'm sure.
Looks a bit twee, but they say its affordable so that's something at least.
FEB 7th
Pop Up Vintage Fair, Alexandra Palace, London
9:30 am – 4:30 pm
General Admission: 9.30am – £6 per person. Only £3 with 2-4-1 on their website.
Part of a large general antiques fair this "pop up" is the 20th- Century part. Its rather fun.
You may have to root around a bit for those mid century icons you're after, but it will while away a wet Sunday.
FEB 28th
Mid Century Modern Show, Dulwich
10am -4pm. 
Admission £10 on the door. Advance tickets, £9 ONLINE ONLY
The original and the best.
If you need some furniture then you'll find it here. You'll need a heavy wallet. Make sure he brings one.
New stuff upstairs and the genuine mid century article downstairs. Lots of Scandinavian classics, Bauhaus and French industrial furniture. That should to get your blood pumping.
If you can't find what you're looking for here then you may as well go to IKEA.
Even if you have no intention of buying anything this is definitely the place to see or be seen. I hope I don't bump into Jimmy Carr again, funny little man.