VELVET SOFAS ARE THE HEIGHT OF MID CENTURY MODERN OPULENT INTERIORS
Don't worry darlings. I'm here to cheer your weary souls on this dreary day. When Christmas is over and the nights are long we need plush velvet interiors to cosset us. I can think of no better example of the opulent use of rich velvets than "Stephen's Folly", Palm Springs. Decorated in 1969 and untinkered with ever since.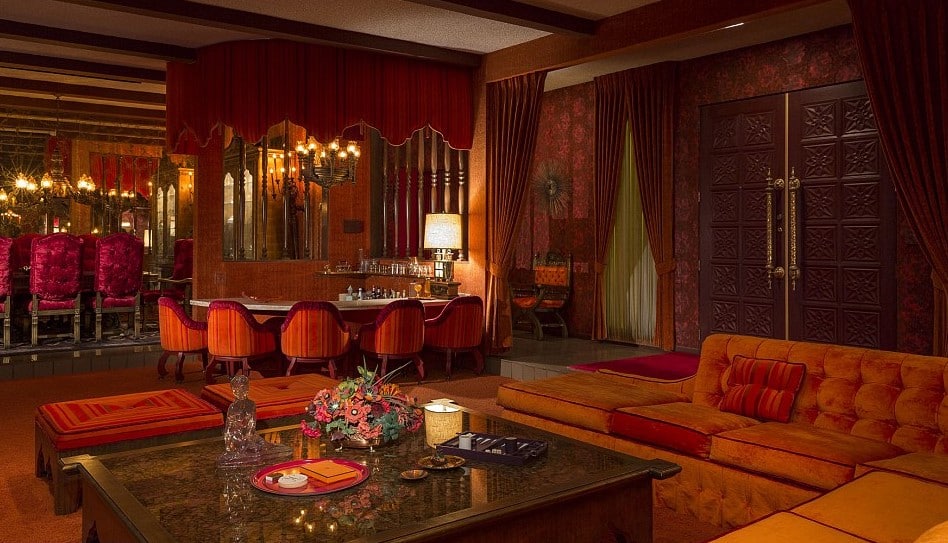 This lavish home was decorated by its second owner Jack Stephan "plumber to the stars" in 1969 He worked wonders with my plumbing back in the day too. With sixteen different types of wallpaper and fabric blending in perfect harmony from red to orange, and pink to fuchsia, it has the womb-like ambience we crave on these dismal January nights. Not sure it would be quite the thing on a soaring summer day in Palm Springs, but that's not my problem is it?
To recreate this look here are two stunning red velvet sofas that scream 1950s glamour. I'm not sure I could relax in my jeans on here. May need a whole new wardrobe to do them justice!
And now to warm your cockles…readers I have splendid news for you. You don't have to break the bank to create this level of opulence in your own home. We have sourced some fabulous velvet sofas for under a £1000!
Take a look at the beautiful Oscar and the luxurious Scott. If you like your men to look good, feel great and not cost you a fortune these are just the guys for you!
I do love a curvy velvet sofa. These are very early mid century styles inspired by Art Deco but so feminine and delicate.
VELVET BEDS
And just look at this boudoire… bedroom does not do it justice. Not sure what Walter would make of it though.
These lovely velvet bed frames are a little more low key but still sumptuous.
Don't stop there. Finish it off with the Julius velvet bedspread also from and you won't get out of bed till May. Winter is looking up!