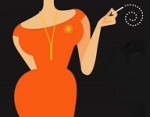 MOVING HOUSE? GRAB YOURSELF A MID CENTURY MASTERPIECE
Its all very well collecting all those beautiful items of mid century design but now you need that mid century architectural masterpiece in which to display it all. Here are some beauties. All located in the UK and to suit a variety of budgets. Now all you have to do is move…
Built to a design by Eric Lyons in 1968, it is located in the remarkable, and largely undiscovered, village of New Ash Green in the Kent countryside that was almost entirely built in the late 1960s / early 1970s. It is a large village with a range of shops and services (a bank, a small supermarket, library, doctors surgery) and also extensive green spaces including a beautiful village green, communal orchards, fields and woodland, but with easy access to Central London.
Approximately 50% of the housing stock in the village was built by Span, a company that is widely considered to be the finest developer of the post-war period. Most of the original 1960s interior has been modernised but it would be a wonderful project to bring it back to its former glory.
Little Orchard, South Wales, £499,950
Designed by renowned Cardiff architects Thomas Glyn Jones and John R Evans, this is a Grade ll listed, award winning property in a select development of just six houses. Completed in the late 60s the design shows a Scandinavian influence. Just look at all that Norwegian wood! You could shoot your own Imagine video on that piano in front of those floor-to-ceiling windows.
Victoria Drive, London, SW19, £865,000
This three-bedroom house in a tranquil setting was built in 1960. Like the first house on our list it was built by the renowned development company Span and designed by Eric Lyons, a celebrated architect whose work has been widely published and is still much admired today. The owners have kept and restored the original flooring and it boasts a wonderful orange kitchen and exposed brick walls. If you like your mid century style on the Kitsch side this is going to be right down your street.
Holyport, Berkshire, £1,400,000
This single-storey house, originally designed in the early 1960s by Peter Foggo and David Thomas, is one of a group of three of the most notable 20th century architect-designed residences in the UK. The house is of steel frame construction which enables the remarkable amount of glass walling that ensures a light filled interior.
The house has undergone an extensive programme of restoration and extension since being purchased by the current owners in 2009. The greatest care has been taken to preserve the integrity of the original design while improving its energy efficiency. Mies himself would have been proud.
Yester Road, Chislehurst, Kent, £1,400,000
This superb example of a late 1960s detached house was designed by the architect Roy Lancaster. Wonderful use of materials and a great sense of light and space. And it still has its original kitchen. Don't rip it out!
Drax Avenue, Wimbledon, £2,450,000
Designed by renowned architect Sir Philip Dowson, it is widely regarded as one of the finest examples of Modern residential architecture in London. It is on the market for the first time since it was built in 1969 for the renowned engineer Sir Jack Zunz. It has been recently Grade 2 listed by English Heritage who describe it as "a well-crafted, meticulously planned private house… using high quality materials throughout". Oh, do stop drooling dear.